Random Tech Review – ROG Phone 6 Pro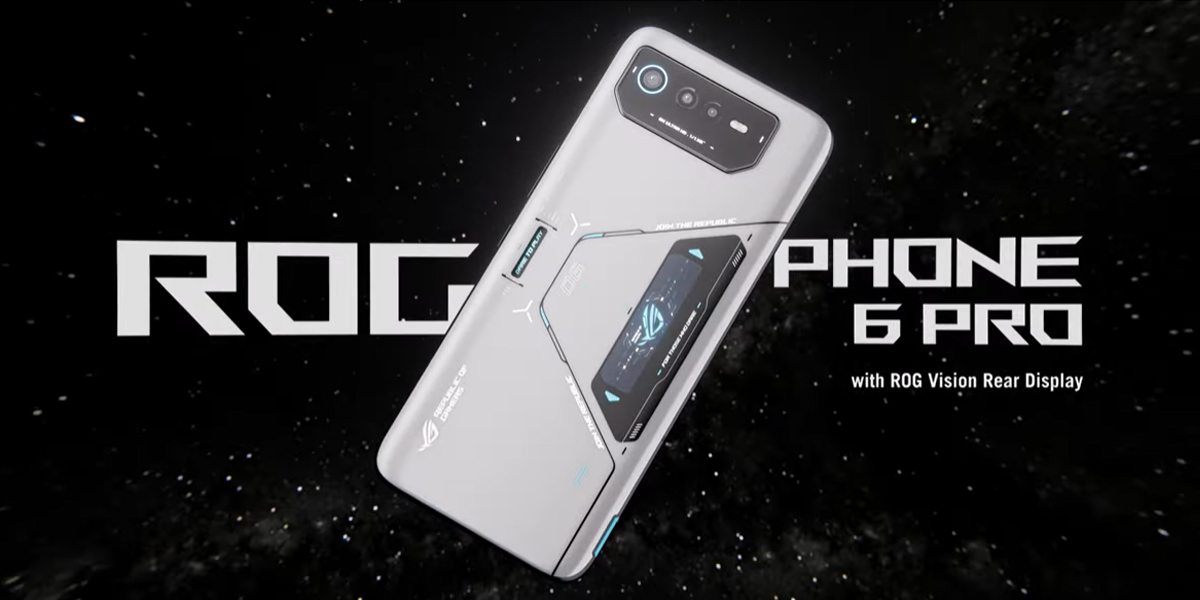 Are you a gamer if you are into mobile games? Well, If you are playing on an ASUS ROG Phone 6 Pro then the answer is an unequivocal, yes! The ultimate future phone is back and this time there are modifications that make it more compact than ever and easily the most powerful smartphone for gaming.
While most mobile companies are keeping close eyes on what iPhone or Samsung are doing, Asus seem to walk to the beat of their own drum with a gamer-focused design and ideals with peripherals to match. Everything about this phone is premium and while the price tag reflects that, it's easy to see why pro gamers look to this device to power their smartphone needs.
Before you even get to the phone itself the unboxing experience is second to none. The tube the device lands in sets the design tone and once you work out how to flip it open you'll find everything neatly packed away ready to go. Included in the pack are your ROG Phone 6 Pro, Fast charger and USB c cable. Plus all the documentation is packed away neatly and you'll find an oddly shaped business card that is more than meets the eye.
Once you have the phone in hand you'll feel the solid structure with the intricately designed back. It's a phone that feels more like a sports car, or something that would pop up as the latest "Stark tech" in Iron Man. This comes down to the ROG Vision back PMOLED display that is featured. This can be customised to show a great variety of graphics for different scenarios. For example, incoming calls, launching a game or my default setting of charging and battery life. It's really impressive and something you don't see on any other device, so an immediate talking point with your friends.
Having a feature screen like this is great, but one thing that always bugs me with smartphones is we spend a lot of time worrying about how the phone looks, the right colour, and the right-looking rear surface and then we go wack a case on it and cover it all up anyway. The team designing the ROG phone have obviously thought of that as well and looking at the cases available for the device they are mostly cutaway so that the phone's design is not covered up. Check out the DevilCase Lite Guardian.
Colour options are simple but effective. The Pro 6 model comes in Storm White while the standard 6 comes in both Phantom Black and Storm White. The unit I was sent to review was Storm White and would easily be the colour I'd choose when purchasing the product. More of that sleek I-Robot look that we are seeing more of across the Republic of Gamers range.
The device includes 2 USB type C ports. One on the bottom of the device as you hold it vertical and the other on the side which also allows you to hook up to an external screen through HDMI. It's clearly a screen that has "landscape" as a preferred use. That's the way most high-intensity games would be played and having that option to plug a charging cable into the bottom or side while you are playing is great.
The extra port also has a secondary function, it's where you attach the ROG Aeroactive cooler to the device which is by far the most impressive design for cooling I've seen paired with a ROG phone yet. I remember the first time they introduced these types of devices and they were a lot more clunky and I couldn't see myself packing it in a bag to travel but the new design is far more compact and effective. Plus the added tactile trigger buttons give you more options while gaming. Let's face it playing some games on a mobile device can be frustrating with all touch screen options. So having the ability to use the triggers built into the attachment is just mind-blowing.
It's this feature that made all the difference when playing Diablo Immortal and other fast-action titles. There's also a Kunai Gamepad available which is basically a Joycon clone connected via Bluetooth. This can be attached to the sides of the phone giving it a Nintendo Switch look or you can use the inbuilt kickstand on the Aeroactive cooler to put the phone standing on a surface and sit back and play using the Kunai as a regular controller. The good news here is that the Kunai also comes in white now, so you can get everything matchy match if you want.
Obviously one of the most important parts of the device for any user is the display. Here we have a 6.78inch full HD AMOLED HDR10+ certified screen with insane refresh rates. This is a Samsung-made screen and can reach refresh rates of 165 Hz with an extremely sharp and crystal clear display. The text displays extremely clear and the inbuilt ROG animations show an amazing colour range with plenty of options to customise to your liking in the settings.
Speed is key to gaming and with a Qualcomm® Snapdragon® 8+, Gen 1 Mobile Platform with UFS3.1 and up to 18GB RAM the ROG phone is more powerful than most phones on the market. The chip is centrally located so it moves the heat away from your already hot gamer hands and right under where the Aeroactive Cooler attaches. Smart innovation that keeps you gaming for longer and keeping your device in perfect condition.
The ASUS ROG inbuilt software like Game Genie and the Armory work perfectly to give you control of the device's many options. It's really intuitive to use and because of the power of the phone, the graphic intense menus run smooth and quick every time.
Even a gaming phone has to understand that the main purpose of a modern smartphone is to be a camera, be it still or video, people tend to use those functions more than actually making or taking calls. The cameras here aren't at the level of say a Google Pixel device or the new Samsungs but with a slight upgrade on the previous model, it's heading in the right direction.
The main camera is a 50-megapixel Sony sensor that has a 13MP ultra-wide lens next to it and a 5MP macro lens. The device will now do 8K Video at 24fps and at 4K you'll get 120fps from that main camera. Given that I've never found a need to shoot in 8K the performance is more than adequate for good lighting situations.
This has to be one of the biggest batteries in a phone and with the slim design, you wonder how they manage to fit all this into the ROG Phone 6. Well, it's thanks to a two-cell design. The 6000mAh battery doesn't do wireless charging but quick charging for me is a much better option going from 0% to 100 in around 45 minutes. You'll get lots of life out of the battery depending on how much gaming you are doing. With minimal gaming, I got a solid 2 days from it thanks to optimising via the armoury crate app. An interesting feature of the phone is that is uses bypass charging, so powers the phone first and battery charges from that, this is for performance while gaming, but also there's heaps of research the team have done here to improve battery life overall.
An example of this is the feature "Alarm clock charging" which sets the charge timing so it hits 100% just before your alarm goes off to wake you up.
There are so many features in and around this device that it's almost too much to mention and I swear I find something new every time I use it. As a phone, it's fine, as a camera it's really good, but as a portable computer that has the guts and glory that comes from being associated with gaming, it's outstanding. Nothing on the market comes close to its power and style and if you are a gamer, it's the only device that will live up to expectations.
While the ROG Phone 6 is missing some common modern features like wireless charging, you can see from the internal layout why that is the case and it more than makes up for it with the most advanced heat management you will see on a smartphone and a uniquely inventive design that nails the target consumer.
By Doccy Darko (Official Tech and Gaming Guru of the Random 20)
Listen to the Random 20 weeknights for more Tech and Gaming News.