The Irwins - 2020 Year in Review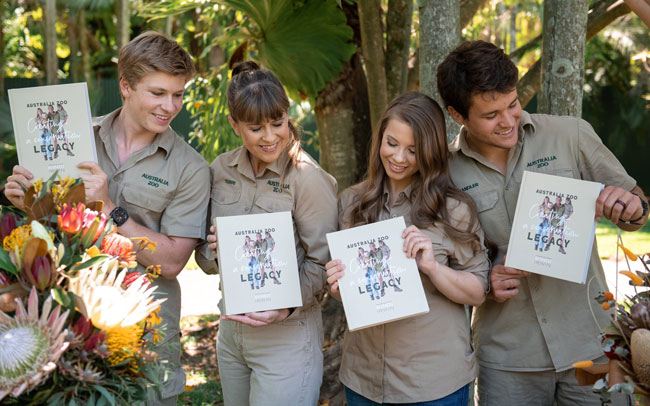 IMAGE CREDIT: Twitter @BindiIrwin
During the second half of 2020, it seemed like there wasn't a time that went by without some news of the Irwins. From expecting Bindi Irwin, through to Robert Irwin turning 17 (yes, that little baby is now almost a man).
Bindi even came out with a book, Creating a Conservation Legacy!
I'm tremendously grateful to be sharing my book with you. ❤️

To thank you for your amazing support we've extended free shipping worldwide until January 15 when you spend $150AUD ($114USD) on our Australia Zoo online shop. https://t.co/ssC8A5guwj pic.twitter.com/MSSh1jYAl0

— Bindi Irwin (@BindiIrwin) December 10, 2020
So with that said, here's everything Irwin related that's happened this year so far (in the second half at least of 2020).
Bindi Irwin and Chandler Powell Expecting Their First Child in 2021 - August 11th 2020
Bindi Irwin and husband Chandler Powell have just announced that they're expecting! Irwin shared the special news on social media on Tuesday 11 August, saying, "Baby Wildlife Warrior due 2021. Chandler and I are proud to announce that we're expecting!"
Posting a photo of the couple holding a baby-sized Australia Zoo khaki shirt, Powell expresses his excitement of becoming a dad. He writes on
Twitter
:
"We're going to be parents!! We have a baby Wildlife Warrior on the way coming in 2021. Becoming a dad is the highlight of my life. I cannot wait to embark on this new adventure and life chapter with my gorgeous wife,

@BindiIrwin

. Bee, you're going to be the most amazing mother."
Irwin is currently in her first trimester but explains she wants her fans and followers to be a part of her journey from the beginning of her new life chapter. She thanks everyone for the support and asks for good vibes and prayers and also some advice.
Bindi's brother Robert also wrote of his excitement of becoming an uncle, posting on
Twitter
:
"The best news ever! I am so happy for Bindi & Chandler to be welcoming a new member of the family. I can't believe I'm going to be an uncle! Incredibly excited for this brilliant new chapter and all the fun adventures ahead with a new little Wildlife Warrior!"
The best news ever! I am so happy for Bindi & Chandler to be welcoming a new member of the family. I can't believe I'm going to be an uncle! Incredibly excited for this brilliant new chapter and all the fun adventures ahead with a new little Wildlife Warrior! pic.twitter.com/zjHMzpNC0t

— Robert Irwin (@RobertIrwin) August 11, 2020
Bindi Irwin and Chandler Powell Share Pregnancy Update - September 14th 2020
Bindi Irwin and husband Chandler Powell have shared a touching pregnancy update with their fans over the weekend!
The newlyweds took to Instagram to share a recent sonogram of their first child.
In the photograph, Irwin can be seen cradling a baby joey and holding the sonogram while Powell stands beside her holding a koala.
"The animal joeys we care for are excited to meet our human joey. ❤️ Baby Wildlife Warrior is about about the size of a hummingbird now!"
Wildlife conservationist, Irwin went on to say that both her and Powell can't wait to introduce their child into the Australia Zoo family.
"We can't wait to teach our little one about the importance of protecting our planet and the beauty of the wildlife and wild places we love so much."
Irwin and Powell were married at the Australia Zoo earlier this year and announced they were expecting their first child last month, on Instagram.
Baby Wildlife Warrior is due in 2021.
It's A….Bindi Irwin and Chandler Powell Reveal Gender of Their First Child - September 23rd 2020
Bindi Irwin and husband Chandler Powell have once again used Instagram to share some exciting news about their first child.
Irwin and Powell have so far used Instagram to announce they were having a child earlier last month and just over a week ago to share a sonogram scan image of their Baby Wildlife Warrior who was "about the size of a hummingbird".
Overnight 22-year-old Bindi again took to the social media platform again this time to reveal the sex of their baby.
"Baby girl, you are our world.❤️"
"Our beautiful daughter is now about the same size as a hatchling Aldabra tortoise and is as healthy as can be. We can't wait for her arrival next year," Irwin's post read.
Powell also shared the exciting news over on his own Insta feed.
"Our little girl and my beautiful wife are my entire world. I'm so excited to meet our daughter when she's born next year and to see the incredible person she will grow up to be❤️."
The newlyweds first revealed they were expecting their first child together back in August on Instagram with a message that read "Baby Wildlife Warrior due 2021."
Bindi Irwin Share Photo of Growing Baby Belly for the First Time - October 12th 2020
Aussie celebrity Bindi Irwin has shared another touching pregnancy update with fans over the weekend.
Bindi who is the daughter of the late Steve Irwin took to Instagram to share the first glimpse at her growing baby bump.
The 22-year-old can be seen gently cradling her belly while posing for the snap taken by mum Terri. Bindi, who is pregnant with her first child a baby girl shared the update and added the following caption to her post.
"My beautiful mum took this photo yesterday. Baby girl is doing great," she wrote.
In the post, Bindi also shared an update on her energetic baby girl who has grown to the size of a mountain pygmy-possum.
"Every time we get an ultrasound she's incredibly energetic and always moving around. She's now about the same size as a mountain pygmy-possum. Too cute! 💛"
Bindi and husband Chandler Powell, 23, announced the pregnancy in August and are expecting their first child next year.
Is Terri Irwin Planning Daughter Bindi a $90,000 Baby Shower? - October 21st 2020
I know what you are thinking, surely this can not be right, a $90,000 baby shower?!? Like will each guest be taking home a 24-carat gold dummy!
After announcing her first pregnancy in August with husband Chandler Powell, Bindi Irwin has been the talk of the Aussie Celeb scene and now her mum Terri is making headlines.
An insider has told Woman's Day that "Terri has already started planning a massive baby shower and is sparing no expense."
Reports suggest that the couple will be hosting a lavish baby shower that comes with a $90,000 price tag thanks to mum Terri.
"Sure, they've gone through hard times at Australia Zoo, but Terri's digging deep into her personal savings to give Bindi and Chandler the best celebration ever, with live music, games and flower displays. And she's planning something big in the way of a special surprise guest," the source went on to say.
The latest pregnancy update from Bindi and Chandler came earlier this month when Bindi shared her first baby bump pic on Instagram. The newlyweds baby girl is now the "about the same size as a mountain pygmy-possum."
Bindi Irwin's Touching Tribute to Brother Robert - October 27th 2020
Everyone's favourite preggers Aussie Bindi Irwin has shared a touching tribute to younger brother Robert over the weekend.
Bindi, who is expecting her first child a little baby girl with husband Chandler Powell posted some very special words to her Insta page on Sunday alongside a photograph of her and Robert hugging
"Shoutout to my little brother (who definitely isn't 'little' anymore) for being such an incredible friend. You're always there for me and I know you will be the best uncle when our baby girl is born. Love you," Bindi wrote.
Bindi certainly knows that her little baby girl will be in good hands with younger brother Robert, who she is confident will be "the best uncle".
The newlywed's Bindi and Chandler announced the pregnancy of their first child back in August with the Baby Wildlife Warrior due in 2021.
Is Robert Irwin Set to Become the Face of Australia's Most Iconic Family? - November 9th 2020
The Irwin's have become one of the most iconic Australian families with a fascination that stems over a decade.
Since the untimely passing of father Steve back in 2006, wife Terri evolved to be the "face" of the family until their eldest child, daughter Bindi was of age.
And now with the 22-year-old expecting her first child in early 2021 could we about to see another shift in the family?
Woman's Day is reporting that as Bindi pulls back on public life that younger bro Robert is set to take over as the face of the family.
According to its source the news that Robert is set to takeover matched with insider news that he is planning a move to the Big Apple, hasn't gone down to well with Bindi.
"Behind the scenes, Robert's wasted no time planning for his time in the spotlight. Bindi's feeling very cast aside, and it's hard to not feel jealous seeing her little brother do so well," says the source.
"Robert is a natural successor to their dad – he's the spitting image of him, too," says the insider.
Is Bindi Irwin Going to Give Birth at the Aussie Zoo? - November 10th 2020
In case you somehow missed the news, Aussie Wildlife Warrior Bindi Irwin is expecting her first child with husband Chandler Powell.
Due in early 2021, Bindi regularly shares Baby Bump updates across her Instagram feed with her most recent a photo of Bindi and Chandler with Forest the giraffe (who according to the caption is excited to meet their daughter).
Well, now it would appear that the couple is considering planning a home birth at none other than Australia Zoo.
Speaking to New Idea a source close to the couple seemed to confirm that the Australia Zoo could be an option for the couple.
"This is such a special time for the Irwin family and Bindi thinks it would be amazing to welcome their baby into the world at the zoo," the source said.
However, it seems that Bindi's mum Terri isn't such a fan of the idea.
"She (Terri) will do whatever she has to do to make sure her daughter is comfortable, but not at the expense of her and her grandchild's wellbeing."
Australia Zoo has a special place in the couple's heart for obvious reasons and they have marked many milestones there including their wedding in March.
What do you think could the Baby Wildlife Warrior been born at the Zoo?
Bindi Irwin Hits Pregnancy Milestone - November 12th 2020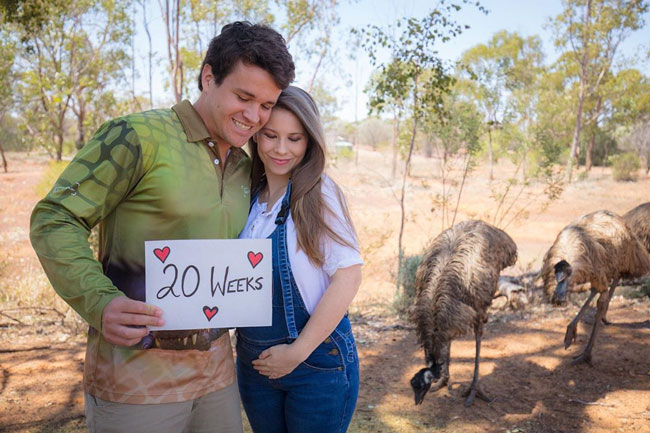 Bindi Irwin has just hit a major pregnancy milestone.
That magical halfway mark!
To celebrate the 20-week halfway point, Bindi has posted on Instagram to celebrate.
"Halfway there! 20 weeks pregnant and our baby girl is about the same size as a recently hatched emu chick."
"💗 The love I have for my sweetheart husband and our beautiful daughter is boundless."
It was just 13 weeks ago that Bindi and Chandler officially announced the anticipated 2021 arrival of their Baby Wildlife Warrior.
"Baby Wildlife Warrior due 2021. Chandler and I are proud to announce that we're expecting! It's an honour to share this special moment in our lives with you."
"Though I'm still in my first trimester, we really want you to be part of our journey from the beginning of this new life chapter."
"We couldn't wait to share the news as this beautiful little being has become the most important part of our lives. Your support means the world to us."
"Please let me know your best advice and send good vibes & prayers to our little sweetheart. Love & light. ❤️"
And with plans to have a "Home Birth" at Australia Zoo, who knows how this journey will end.
PHOTO CREDIT: Instagram @bindisueirwin
Crikey! Robert Irwin is Turning 17! - November 30th 2020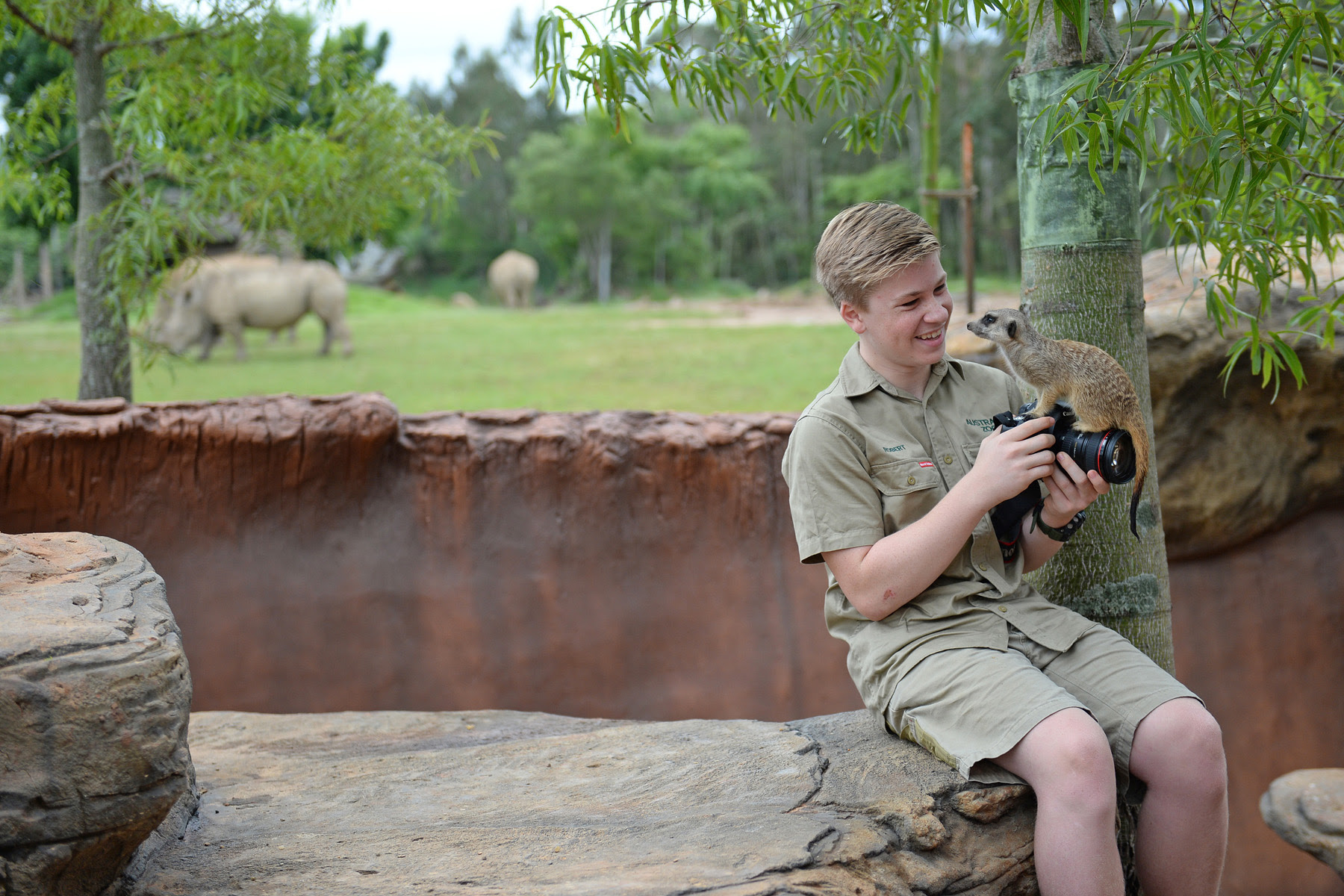 As if we needed another reason to show how old we all are, little Robert Irwin is not little anymore.
Wildlife Warrior Robert Irwin is about to celebrate his 17th birthday on December 1st, Tuesday, with his family and guests at Australia Zoo!

The young wildlife conservationist is excited to share his love of wildlife and wild places on this day, hoping to continue the legacy of his father, Steve Irwin.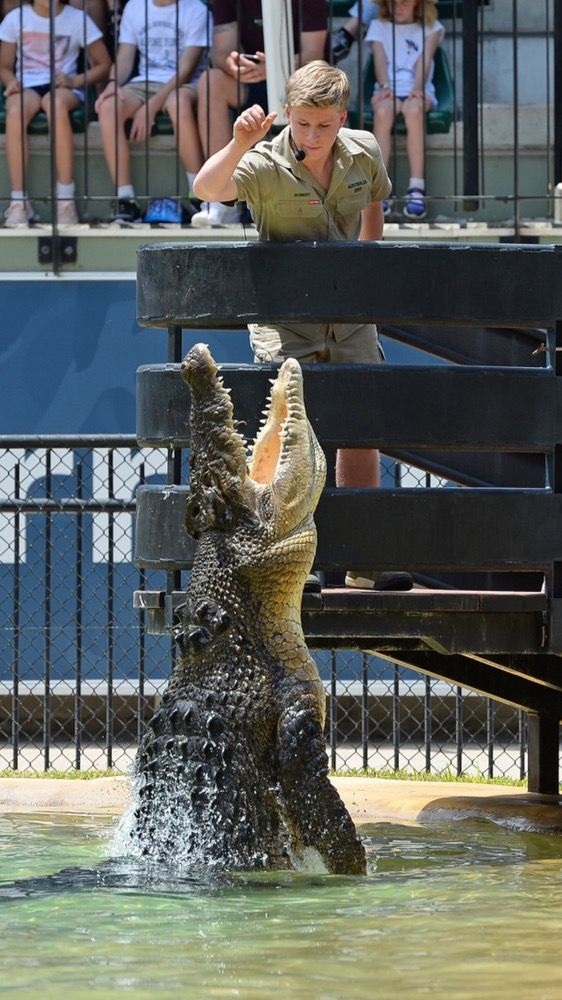 (
IMG Dhwani Chandra -Marketing)

This special day will celebrate all that Robert is deeply passionate about; wildlife conservation, photography, crocodiles and much more! (Check Official Website)

"Educating and connecting people with wildlife is the best way to turn them into true conservationists and it will be incredible to see people come together and achieve this, especially on my birthday," he said.
Over the years Robert has shown that he is doing a great job of representing Australia and taking on the legacy of his father.
Here are some of our favourite moments where he has appeared on shows like The Tonight Show with Jimmy Fallon.


Happy Birthday Robert!
Robert Irwin Celebrates Birthday with Emotional Video of Dad Steve - December 3rd 2020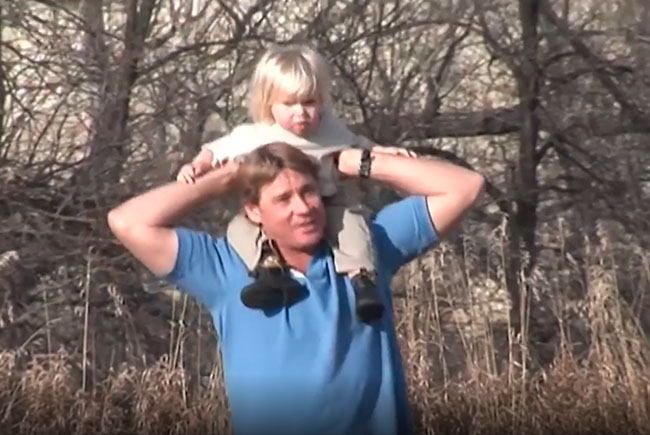 This one has all the feels!
To celebrate Robert Irwin's 17th birthday, the Australia Zoo crew edited together an emotional video featuring footage of Robert's dad Steve talking about fatherhood.
Robert was only 2 when his dad died from a freak accident involving a string ray.
Robert shared the video to his Instagram, and wrote that he is "beyond honoured to continue my dad's legacy and I hope more than anything that he would be proud".
"I want to thank you for all of your lovely birthday messages and thanks to all who joined us for the celebrations at Australia Zoo today. Looking forward to seeing what this next year brings, in the last year of my childhood!"
The video starts with footage of Steve talking about how he felt when Robert was born on Dec. 1, 2003, saying how he "saw the light" when he met his son.
"I'm catching crocs, I'm saving wildlife, I'm doing this and I'm doing that, but when Bindi was born, I had the same sensation now with little Bob" Steve says to a crowd at Australia Zoo. "It's like, this is why I was put here, because I could be dead tomorrow. So I need these blokes to come up as quick as they can. This little bloke's going to have to catch the crocs with Bindi!"
Steve's voice continues over footage of him with Robert as a youngster and then footage of Robert older.
"When they're ready to run up our mission, I will gladly step aside," Steve" says at the end. "Then and only then will I know that I achieved my ultimate goal. And my job will be done, and I guarantee you, it will be the proudest moment of my life."
Bindi also posted happy birthday wishes to her brother in another emotional Instagram post featuring a photo of Robert walking her down the aisle.
"Happy Birthday to my amazing brother! Your kind heart and fantastic sense of humour makes my every day. Our baby girl is going to love her 'funcle' (fun uncle) so very much. You're one of the brightest lights the world has ever seen. I'll always be here for you. Love you!" Bindi wrote.
To which Robert replied: "Bindi!! Thank you so much, I am so lucky to be your brother and about to be a funcle 😂 love you heaps!"
Image: Instagram/RobertIrwinPhotography
"She's So Beautiful", Bindi Irwin Shares Ultrasound of Baby Daughter - December 4th 2020
You literally can not wipe the smile off pregnant Bindi Irwin's face, she is absolutely beaming!!
Bindi and husband Chandler Powell who will welcome a little baby girl in the new year recently shared the most adorable and heartfelt pregnancy update.
The couple who are active on social media took to Bindi's Instagram to post a video from a recent ultrasound.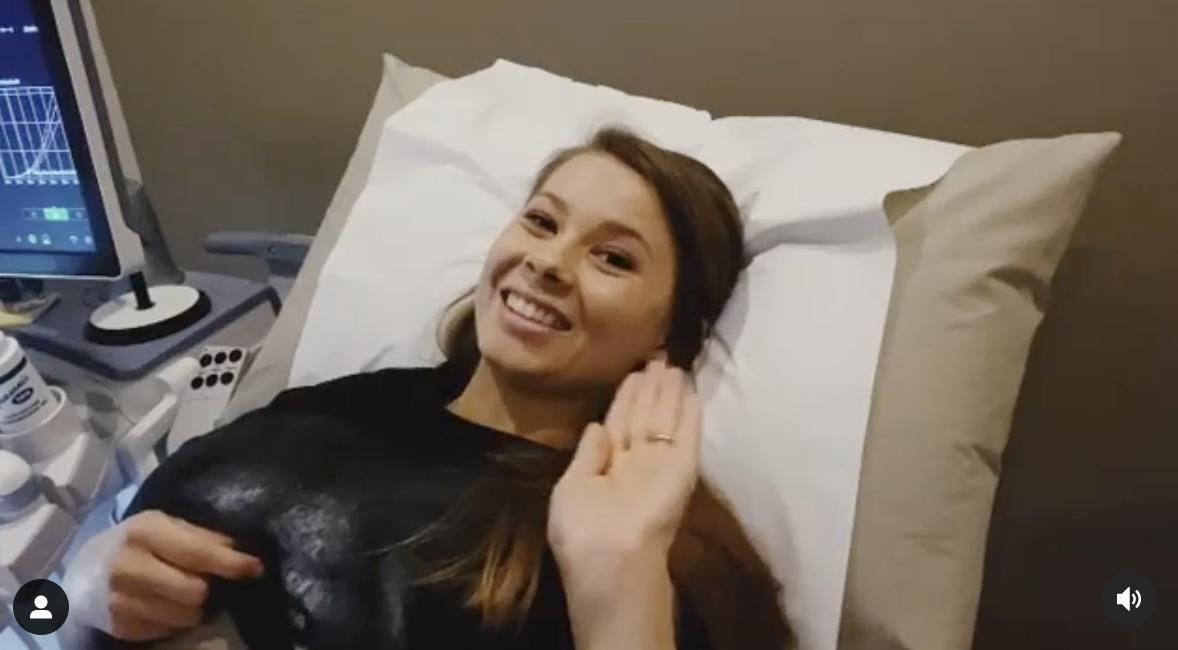 "Our beautiful daughter is the light of our lives. Beyond thankful that she chose us to be her parents. I can't wait for her to be here next year," the caption alongside the video read.
The video shows a glowing Bindi and then pans around the consultation room to reveal the ultrasound footage.
"This is so exciting. Look at our daughter, she's so beautiful," Bindi says as we waves to the camera. Chandler who can't be seen in the video - we can only assume he is the one filming - can then be heard saying "Wow, you can see her heartbeat there. Oh my goodness, she is beautiful and very active."
Bindi is just over the 20-week mark in her pregnancy, this will be the Wildlife Warrior couples first child.
The couple married on March 25, in an intimate ceremony at Australia Zoo.
Image Credit @bindisueirwin Instagram (Screenshot)
What was your favourite Irwin moment in 2020? Leave us a comment on Facebook!