New Aussie Christmas Music for 2020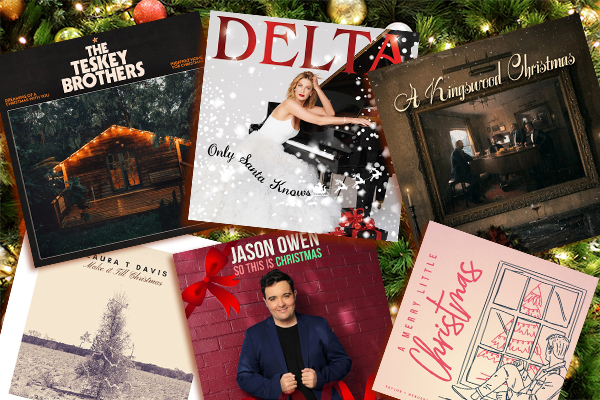 Looking for something to freshen up your Christmas song playlist? Here are some wonderful Christmas options from Australian artists new for 2020!
There are some great classic Christmas albums that we love, and some albums released from big-name overseas artists for 2020, but why not also support some local artists and share the love?
Delta Goodrem - Only Santa Knows
Only Santa Knows is Delta Goodrem's first full-length Christmas album, with two original tracks and 11 covers.
Gurrumul and Olivia Newton-John also join Delta on the album, made with the help of The Sydney International Orchestra, The Mount Druitt Gospel Choir & Sister2Sister Kid's Choir.
"It came from the right heart space of wanting to give love to people for Christmas in the only way I know how, and that's through music," Delta told Mikey Nielsen from the Random 30 Countdown.
Kingswood - A Kingswood Christmas
The boys from Kingswood have decided to get out the tuxedos and the crooning vocals for their latest album A Kingswood Christmas, and it's all for a great cause.
After a tough 2020 for everyone, Kingswood is donating all proceeds of the album to Beyond Blue. What a bunch of legends.
"We knew we were going to do this for charity; I think it would feel weird to do it otherwise," Ferg from Kingswood told Tom & Loggy on K rock's Fresh Daily.
"Mental health is a big issue in the music industry and around our age group, we're very familiar with it, and we always try and help out where we can."
The Teskey Brothers - Highway Home for Christmas & Dreaming of a Christmas With You
The Teskey Brothers have released not one, but two Christmas songs for 2020, Dreaming of a Christmas With You and Highway Home for Christmas.
But it doesn't stop there, from 10 am AEDT on December 22, the band will release to their YouTube channel a special performance with Orchestra Melbourne, live from Hamer Hall.
Sia -

Snowman
Although released in 2017, Sia's song Snowman finally gets an animated video to go with it in 2020, which has already had over 15 million views on YouTube.
Jam Mountain - Light a Candle
Jam Mountain Music's Light A Candle supports Act For Kids and has secured two number one spots on the Australian Independent Record Industry charts (for two consecutive weeks). It debuted at number four on the ARIA Australian Music Singles Chart.
Laura T Davis - Make it Till Christmas
When country singer Laura T Davis sings the lyric, "If I can make it till Christmas, I'll be OK," it's a sentiment plenty of us can relate to in 2020.
Jason Owens - So This is Christmas
Jason Owen's new song So This is Christmas features rural Aussie kids who he assisted with his charity "Doin It For Rural Aussie Kids".
The proceeds from his song go directly to the charity to support rural Aussie kids.
Taylor Henderson

- Have Yourself a Merry Little Christmas & Hallelujah
Just released on December 18, Taylor Henderson lends his beautiful vocal stylings to the classic Have Yourself a Merry Little Christmas and Hallelujah.
Merry Aussie music Christmas everyone!