Kylie Jenner Faces Backlash After Asking Fans to Donate to Makeup Artists GoFundMe Page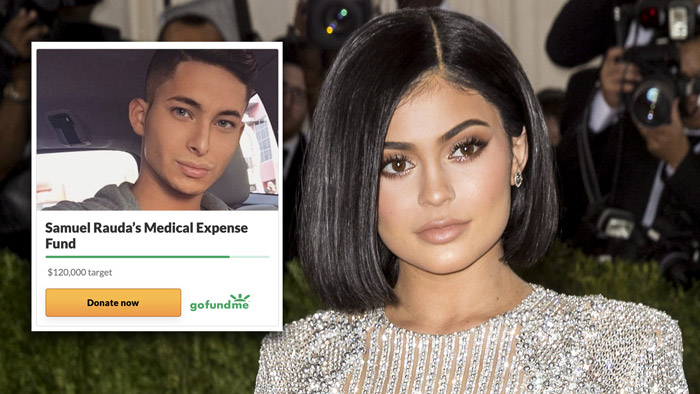 Known for her title as "the youngest self-made billionaire", Kylie Jenner has faced backlash after asking fans to donate to her makeup artist's GoFundMe page, after they were injured in an accident.
The 23-year-old celebrity wrote on her Instagram:
"May God watch over you and protect you @makeupbysamuel everyone take a moment to say a prayer for Sam who got into an accident this past weekend... And swipe up to visit his families go fund me."
Jenner's makeup artist Samuel Rauda had emergency brain surgery following a car crash in March 2021. Rauda's family set up a GoFundMe page, 'Samuel Rauda's Medical Expense Fund', which included the description:
Anyone who knows Samuel can say he is the most loving and kind person you could ever meet! He has a big heart and doesn't hesitate to help someone in need. When you are having a rough day, he certainly knows how to make you laugh and turn that frown upside down. At this moment, he needs our support and prayers more than ever. Sam underwent major surgery on Sunday, 3/14/21. He has a long road to recovery ahead of him. I know he is loved by many. Your donations will help cover the cost of his medical expenses and what's to come. Please know that a donation of any amount is greatly appreciated. The Lord bless you abundantly!
Fans have criticised the Kylie Cosmetics founder, for asking fans to donate rather than funding the medical expenses herself. Jenner has an estimated net worth of $900 million (USD) which means she makes $450,000 a day. It caused lots of opinions to be shared on Twitter:
I know Kylie Jenner ain't asking me for $60,000 for her make up artist's brain surgery.. meanwhile sis makes over $450,000 a👏🏾day👏🏾 pic.twitter.com/PT3SskVLx5

— Gossip Girl ✨☕️🤍 (@xoraveen) March 21, 2021
kylie jenner bought her toddler a $15,000 handbag but is asking her fans for money pic.twitter.com/dH4Rua6Imk

— kaitlyn (@kaitlynsaloser) March 21, 2021
Folks are defending Kylie Jenner by pointing out she donated $5,000 to her makeup artist's medical GoFundMe. Her net worth is $900M.

So, that's 0.000006% of her net worth.

If your net worth were, say, $100k, it would be like donating 56 cents.

— Charlotte Clymer 🏳️‍🌈 (@cmclymer) March 21, 2021
wait so kylie jenner's make up artist got into a car accident and needed $60k for emergency brain surgery and she asked her fans to donate???? and then only donated $5,000 when she's a literal billionaire? the wrong people have money.

— nataleebfitness (@nataleebfitness) March 20, 2021
Kylie Jenner, a billionaire whose toddler has purses from Hermès, Chanel, and Vuitton, wants you to donate the $60k her makeup artist needs for brain surgery pic.twitter.com/t0hjcscNkS

— shauna (@goldengateblond) March 21, 2021
People have also compared the situation to the recent shooting of Lady Gaga's dog walker. Gaga's French bulldogs were involved in a kidnapping which resulted in her dog walker Ryan Fischer being shot four times. She reportedly paid for the $97,500 medical bill.
Lady Gaga paid her dog walker's medical bills no questions asked and Kylie Jenner is over here doing a gofundme for her makeup artist who got in a car wreck? And only donated 5k to it?? pic.twitter.com/FUbUmFFMRb

— the chronically ch(ill) magpie (@punkvenus) March 21, 2021
Rauda's GoFundMe page currently has a $120,000 target.
Image Credits: (Ovidiu Hrubaru / Shutterstock.com | Johanna Portillo / GoFundMe)