Frankie Muniz and Wife Paige Muniz Welcome First Child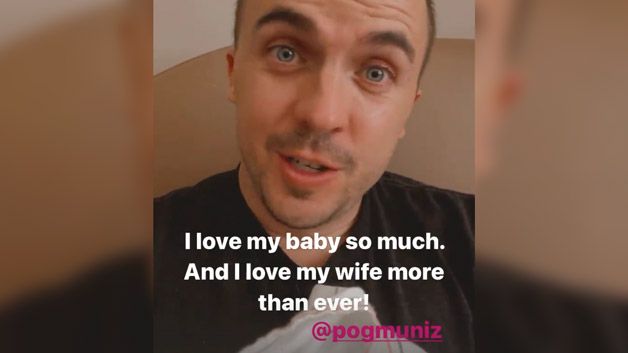 Frankie Muniz and wife Paige have welcomed their first child, in an announcement on Muniz's Instagram story.
In the video posted on Thursday 25th March (Australian Time), a proud Muniz holds his newborn son and tells his followers:
"I'm a dad guys, I love him so much, and I love my wife so much. I just love him.
The video doesn't show the newborn's face but the 35-year-old former actor writes:
"I love my baby so much.
And I love my wife more than ever!
@pogmuniz"
In a video released on the 27th of September 2020, the couple announced they were 15 weeks along in the pregnancy. In the clip, Muniz says:
"Nothing quite compares to the first time hearing your little one's heartbeat. We felt we were living and experiencing a real life miracle for the first time. The second I heard that heartbeat and reality set in, I was throwing out baby names and future career choices."
The couple has been dating since 2016 and were married in February 2020. They filmed their gender reveal and posted a video in November, with the pair revealing they were having a baby boy, cutting a cake to reveal a blue centre.
Known for his role as Malcolm, in the successful television series 'Malcolm in the Middle (2000)', the child star put his acting career on hold in 2008 and became an open-wheel racer and then from 2012 he was a drummer for the band Kinsfoil. In 2012, Muniz suffered a transient ischemic attack and has suffered from health issues, even revealing in 2017, that he suffered memory loss, forgetting he acted in films and shows including Malcolm in the Middle.

Image Credit: (@frankiemuniz4 / Instagram)