Stuck Container Ship Inspires Hilarious Memes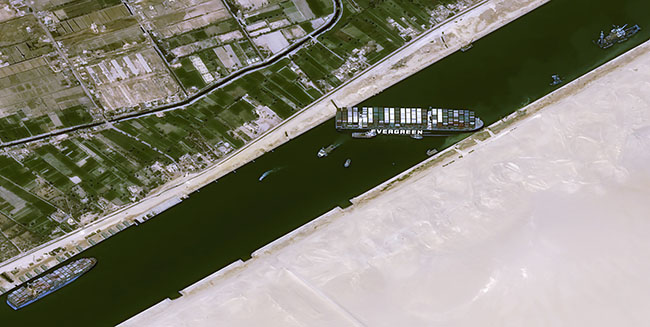 The cargo ship MV Ever Given stuck in the Suez Canal near Suez, Egypt, Thursday, March 25, 2021. (Image: Cnes2021, Distribution Airbus DS via AP)
You may have heard that a massive container ship the size of a skyscraper is stuck in the Suez Canal in Egypt, halting the worldwide shipping of goods.
(So, if you're waiting on a parcel from overseas, you may be in for a longer wait.)
The ship is called Ever Given (not to be confused with the name EVERGREEN in big letters on the side, which is actually the name of the company who owns the ship).
The 59-metre wide and 400-metre long ship is very much wedged in and will be for some time according to the excavation company working hard to move it. With a tiny digger.
Yes, that's right. A digger.
When you feel stressed at work, take a look at this tiny excavator. The burden of dredging the route between Asia and Europe rests squarely on its shoulders. #EVERGIVEN #suezcanal pic.twitter.com/mCoehqgOxc

— Vsy (@vsy) March 24, 2021
You can even see the situation from space - that's the Ever Given in the top left corner in the thin Suez Canal, and on the right in the bigger body of water are all the other ships waiting to go through the canal.
The huge ship stuck in the Suez Canal is visible from space (satellite photos) https://t.co/ezeSibO6pZ pic.twitter.com/DKUMzeRFln

— SPACE.com (@SPACEdotcom) March 26, 2021
The epic fail has inspired some funny memes, remixes and observations. Enjoy while you wait for your parcels to arrive!
"On a scale of one to #SuezCanal, how badly did you screw up?" is my new favourite work scale. pic.twitter.com/8f9gSRjtg2

— cm (@Crackmacs) March 25, 2021
This is my favourite meme format in a long time pic.twitter.com/p7XOuC43PU

— Ben Harris-Roxas (@ben_hr) March 24, 2021
I love the internet#SuezCanal pic.twitter.com/jMPWGftvT3

— Mohamed El Dahshan (@eldahshan) March 24, 2021
the situation in the Suez Canal has escalated pic.twitter.com/a5UVNmuGe7

— James Grebey (@jgrebes) March 25, 2021
My new hobby is collecting Suez Canal ship ran-aground memes. pic.twitter.com/eZHdnuyr8n

— Greg Gershuny🔥🌎 (@GregGershuny) March 25, 2021
They need this dog at the Suez Canal immediately.. pic.twitter.com/Bxaz18hNgO

— Buitengebieden (@buitengebieden_) March 25, 2021
Did anyone else notice the containers spell out LOL? #Suez #suezcanel #EVERGIVEN #evergreen pic.twitter.com/BIoUMamFLv

— Pzyko Claus (@pzykosiz) March 25, 2021