Bindi Irwin and Chandler Powell Welcome Their First Child, Grace Warrior Irwin Powell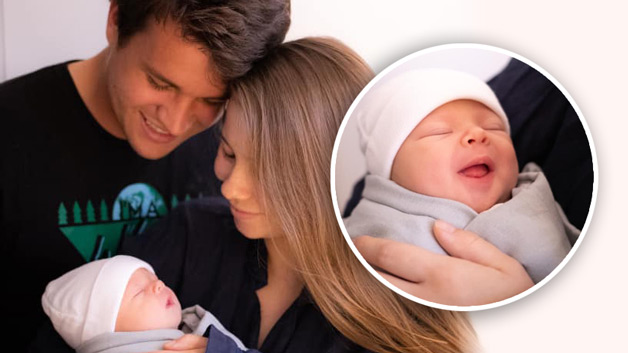 Bindi Irwin and husband Chandler Powell have finally welcomed their baby wildlife warrior on March 25, 2021.
She made the announcement to her fans on social media, introducing her baby girl named Grace Warrior Irwin Powell who was born on the same day as their first wedding anniversary.
Grace was born on Thursday the 25th 2021, at 5:52 PM and weighed 7 lbs 7oz with a height of 20 inches tall.
Bindi shared a photo of her and Chandler with baby Grace, along with a photo of a onesie and nametag and also a photo of Grace in her arms. She wrote:
March 25, 2021. Celebrating the two loves of my life. Happy first wedding anniversary to my sweetheart husband and day of birth to our beautiful daughter. ❤️ Grace Warrior Irwin Powell. Our graceful warrior is the most beautiful light. Grace is named after my great-grandmother, and relatives in Chandler's family dating back to the 1700s. Her middle names, Warrior Irwin, are a tribute to my dad and his legacy as the most incredible Wildlife Warrior. Her last name is Powell and she already has such a kind soul just like her dad. There are no words to describe the infinite amount of love in our hearts for our sweet baby girl. She chose the perfect day to be born and we feel tremendously blessed.
Chandler also posted the same photos, with the caption:
Grace Warrior Irwin Powell. After waiting for you to arrive for the last 9 months, finally meeting you has been the best moment of my life. You have a big life ahead of you and no matter what, you will be surrounded by a whole lot of love. Thank you for gracing your beautiful mother and me on our wedding anniversary, so excited to have you home❤️
New grandmother Terri Irwin shared the news on her social media, explaining that Steve would be beyond proud.
Love is not a big enough word. My heart is so incredibly happy. And I know that Steve would be beyond proud. Grace is the next generation to continue his mission and message of conservation. She chose her parents wisely. Bindi and Chandler are already the best parents ever! https://t.co/mmvXFGz4Gm

— Terri Irwin (@TerriIrwin) March 26, 2021
Bindi's brother Robert, also took to social media to share his excitement about becoming an uncle.
Bindi first announced her pregnancy in August last year with a cute photo of her and Chandler holding up a mini Australia Zoo shirt, saying: "Though I'm still in my first trimester, we really want you to be part of our journey from the beginning of this new life chapter."
In November they announced they were having a girl in a video post featuring an ultrasound, which had 2.5 million views.
We've been treated to constant updates throughout her pregnancy, including sweet photos of her baby bump, their nursery setup and comparing their growing child to the size of various animals (only fitting really).
Image Credits: (@BindisueIrwin / Facebook)