Nomadland, McDormand, Hopkins Scoop Oscars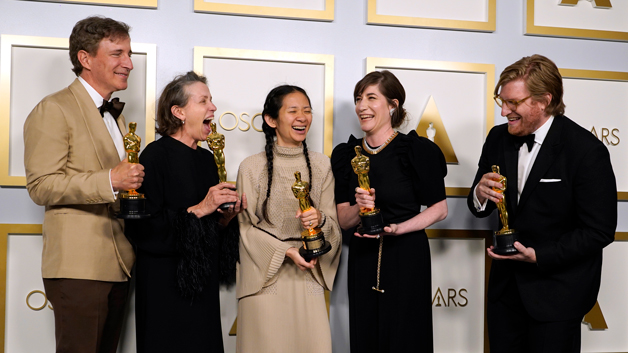 Chloe Zhao's Nomadland, a wistful portrait of itinerant lives on roads across the American West, has won best picture at the 93rd Academy Awards as Frances McDormand and Anthony Hopkins took top acting honours.
China-born Chloe Zhao became the first woman of colour to win best director and a historically diverse group of winners took home awards.
In the biggest surprise of a socially distanced Oscar ceremony held during the pandemic, best actor went to Hopkins for his performance in the dementia drama The Father.
The award had been widely expected to go to Chadwick Boseman for his final performance in Ma Rainey's Black Bottom.
The night's last award, it ended the ceremony on a down note, particularly since Hopkins wasn't in attendance.
But the Nomadland victory nevertheless capped the extraordinary rise of Zhao, a lyrical filmmaker whose winning film is just her third, and which - with a budget less than $US5 million ($A6.4 million) and featuring a cast populated by non-professionals - ranks among the most modest movies to win Hollywood's top honour.
Zhao's next film, Marvel's Eternals, has a budget approximately 40 times that of Nomadland.
A plain-spoken meditation on solitude, grief and grit, Nomadland stuck a chord in a pandemic-ravaged year.
It made for an unlikely Oscar champ: A film about people who gravitate to the margins took centre stage.
"I have always found goodness in the people I've met everywhere I went in the world," said Zhao when accepting best director, which Kathryn Bigelow (The Hurt Locker) was the only previous woman to win.
"This is for anyone who has the faith and the courage to hold on to the goodness in themselves and to hold on the goodness in other no matter how difficult it is to do that."
With a howl, Nomadland star McDormand implored people to seek out her film and others on the big screen.
Released by the Disney-owned Searchlight Pictures, Nomadland premiered at a drive in and debuted in theatres but found its largest audience on Hulu.
"Please watch our movie on the largest screen possible," McDormand said.
"And one day very, very soon, take everyone you know into a theatre, shoulder to shoulder in that dark space, and watch every film that's represented here tonight".
Soon after, McDormand won best actress, too - her third such win. Only Katharine Hepburn, a four-time winner, has won best actress more times.
The most ambitious award show held during the pandemic, the Oscars rolled out a red carpet and tried to restored some glamour to a grim year.
For the first time ever, nominees were overwhelmingly seen in the home during a pandemic year that forced theatres to close and prompted radical change in Hollywood.
More women and more actors of colour were nominated than ever and Sunday brought a litany of records and firsts across many categories, spanning everything from hairstyling to composing to acting.
It was, some observers said, a sea change for an awards harshly criticised as OscarsSoWhite in recent years, leading the film academy to greatly expand membership.
The ceremony - fashioned as a movie of its own and styled as a laid back party - kicked off with opening credits and a slinky Regina King entrance, as the camera followed the actress and One Night in Miami director in one take as she strode with an Oscar in hand into Los Angeles' Union Station and onto the stage.
Daniel Kaluuya won best supporting actor for Judas and the Black Messiah while best supporting actress went to Yuh-Jung Youn for the matriarch of Lee Isaac Chung's tender Korean-American family drama Minari.
The 73-year-old, a well-known actress in her native South Korea, is the first Asian actress to win an Oscar since 1957 and the second in history.
The night's first award went to Emerald Fennell, writer-director of the provocative revenge thriller Promising Young Woman, for best screenplay.
The movie was backed by the production company of Australian Margot Robbie.
Christopher Nolan's Tenet, which last September attempted to resuscitate moviegoing during the pandemic, took out best visual effects, with Andrew Jackson as supervisor.
The Australian Brit described receiving his statuette as "amazing, amazing".
"It all goes back to our director, Chris," Jackson said.
"He leads us all and gives us amazing opportunities to do amazing things. And I'd like to thank my family, my wife, my amazing crew, and my father, who won this same award. Thank you."
© AP 2021
Main Image Credit: Producers Peter Spears, from left, Frances McDormand, Chloe Zhao, Mollye Asher and Dan Janvey, winners of the award for best picture for "Nomadland," pose in the press room at the Oscars on Sunday, April 25, 2021, at Union Station in Los Angeles. (AP Photo/Chris Pizzello, Pool)