How to Watch Tonight's Pink Super Moon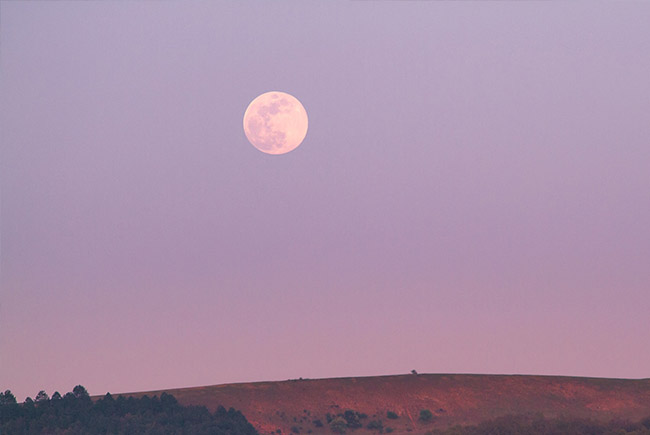 Look up to the sky tonight and you'll see the first pink super moon of 2021!
It won't really be coloured pink (that's just a name) but it will be a big and beautiful full moon shining bright.
It's called a super moon because it's closer to Earth than usual, which only happens a few times a year.
To see it, look to the east around sunset. Hopefully it will be a clear night.
But don't worry if you miss out on seeing it, you can try your luck next month. There'll be another super moon on May 26, which will be a total lunar eclipse that will turn into a blood moon - and this time it really will have a red colour.
The pink super moon has already appeared in the northern hemisphere, check out these amazing images.
If you can't see the #Supermoon tonight tape a tortilla on your window for that authentic experience! pic.twitter.com/6Ny5jCOSVR

— RC deWinter (@RCdeWinter) April 27, 2021
April's Supermoon emerges from the clouds as it rises over Downtown Dallas. #dfwwx #txwx #wxtwitter #FullMoon #pinkmoon2021 #Supermoon #SuperPinkMoon #PinkSupermoon #moon #cityscape @josephhaubert @GaryHershorn @TxStormChasers @wfaaweather @Fox4Weather @BrianJamesWx pic.twitter.com/vsSYmh2QbA

— Matt Lantz (@mattlantz) April 27, 2021
Watch a #timelapse of tonight's #SuperPinkMoon rising over the Newport Bridge, marking the first #supermoon of the year. pic.twitter.com/O9XbKII0of

— Mike Cohea (@MikeCohea) April 27, 2021
And if you miss out on seeing it, here's a good hack to pretend you did!
If you can't see the #Supermoon tonight tape a tortilla on your window for that authentic experience! pic.twitter.com/6Ny5jCOSVR

— RC deWinter (@RCdeWinter) April 27, 2021