Steve Irwin Comes Alive in Stunning Family Portrait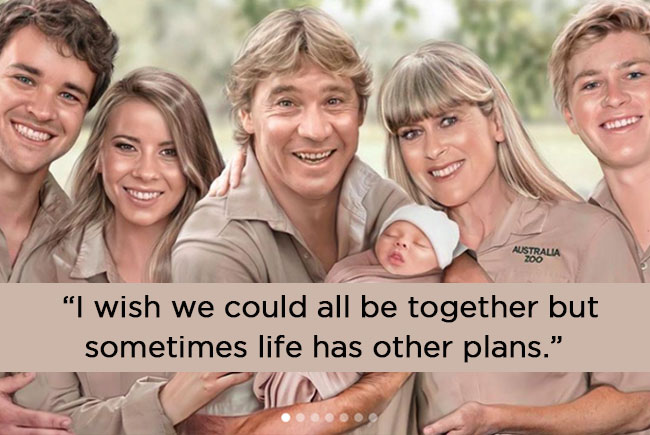 Bindi Irwin has posted a stunning family portrait with a beautiful surprise - Steve is in there too and holding granddaughter Grace!
"Celebrating my first Mother's Day," wrote Bindi in an Instagram post showcasing the portrait with her and husband Chandler, mother Terri and brother Robert with Steve holding Grace in the centre. "This day embodies the extraordinary gift of family. I wish we could all be together but sometimes life has other plans."
The poignant image imagining what could've been was created by digital artist Debb Oliver ('The_Monkey_Brush' on Instagram) from reference photos that Bindi gave her.
In writing about the commission, Ms Oliver echoed what many people would no doubt be feeling seeing Steve looking very much alive and happy with his family.
"I cried many times when I was doing this. I cried when I saw the finished canvas," Ms Oliver wrote on an Instagram post showing the finished artwork and the reference photos she used. "And I'm crying now, thinking about how irreplaceable Steve is. Not only to his incredible family, but to the world too."
She continued: "When baby Grace was born, I waited for photos of her to be released, so I could do this. But before I started, I got a message from Bindi herself, [and] I just couldn't believe it. What an honour. 😭😭 If you've been on my page longer than 2 minutes, you'd know how much I love them."
Ms Oliver went on to praise Bindi as a mother, saying:
"You are just as amazing as your father (and that's a statement 😍) You are compassionate, kind, down to earth, so dedicated and selfless. We are so lucky to watch you as a mother now. You had the best role model, and now Grace Warrior is going to have the best mother ever."
Ms Oliver also created an artwork of Bindi, Chandler and Grace with Chandler's family in America, who have yet to visit Grace in person due to coronavirus restrictions.
Image: Instagram/bindisueirwin