These Gourmet Dog Meals Will Give You Food Envy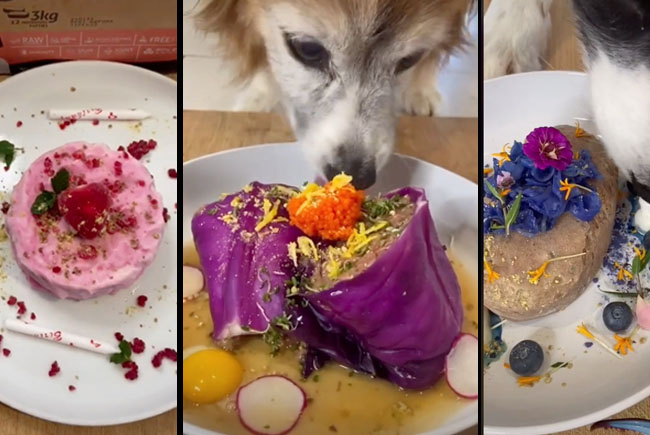 If you're looking for inspiration for dinner, check out these gourmet meals - but just ignore the fact they're made for a dog! Yes, seriously!
Australian TikTok user chefsanddogs prepares amazing meals for pooches that look straight out of a five-star restaurant. It's giving us food envy! Can we come back as this guy's dog in our next life?
The gourmet food bowls feature fancy ingredients like kefir, bee pollen, quail eggs, blue spirulina powder, prawn dust and dragon fruit powder, plus more types of meat than you probably ever saw in one meal.
But it's the way he skilfully prepares these colourful meals that has us watching and rewatching his videos. And the presentation is incredible too, with dishes garnished with edible flowers and artfully placed dollops of sauce.
What's even better is watching the doggos eat the meals - they sure are happy pooches. And how could they not be!
We reckon some dishes would almost work for a human snack or dinner, such as the pork belly dumplings, edible cookie dough and roo lasagne.
And you'd be forgiven for thinking the cake was bought at your local patisserie:
He even does meals for guinea pigs, rats, horses and cats! Check out this rat quiche (no, not filled with rat but to be fed TO your pet rat):
Have you ever cooked gourmet dishes for your pet?