Feast Your Pies On This! Coles Release Tomato Sauce Self-Saucing Pies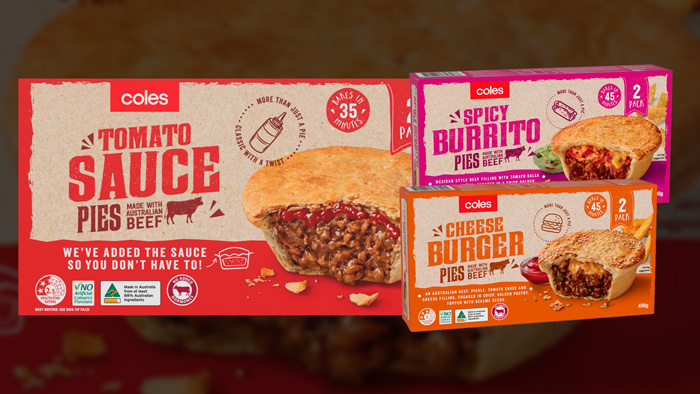 Meat pies and tomato sauce go hand in hand, and now Coles have gone and made it even easier with their new 'Tomato Sauce Self-Saucing Pies'.
Coles have released an exciting new range of pies, including cheeseburger, spicy burrito, self-saucing, and two vegan frozen pies.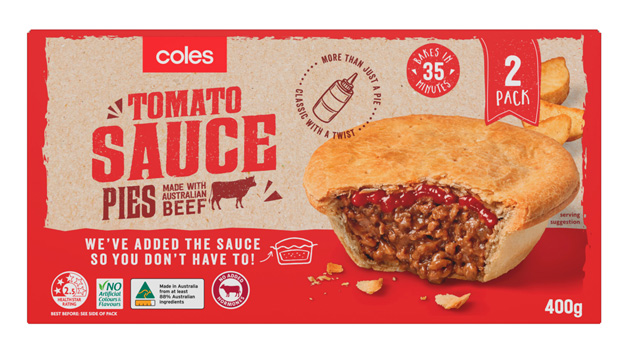 The self-saucing pie is a first of its kind in Australia and were made to be quick and convenient. The packaging reads, "We've added the sauce, so you don't have to!" The pie is a classic meat pie but has a layer of sauce on top of the meat and under the pastry lid. "More than just a pie… Classic with a twist," the box says.
Coles describes their 'Tomato Sauce 'Self-Saucing Pie' as:
Take on the Australian classic, with minced beef in a rich gravy, rounded out with a layer of tomato sauce, encased in a crispy golden pastry. Coles has added the layer of tomato sauce so customers don't have to
There has been a mixed response with the new pies, with some loving the idea of convenience and others explaining that the sauce should be put on cold to balance out the heat of the pie. Coles say they're supposed to be a no-fuss meal to warm up over the winter.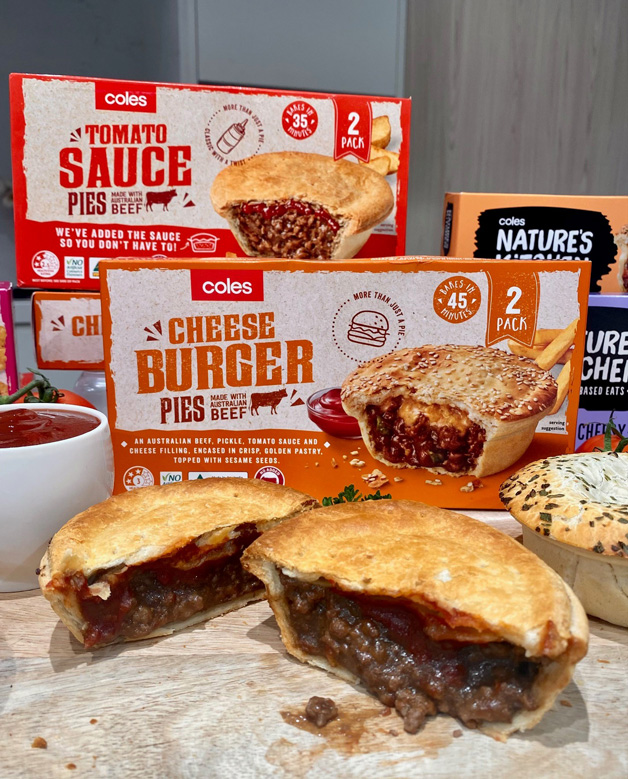 If tomato sauce pies weren't revolutionary enough for you, Coles have also released two other meat pie flavours, Spicy Burrito and Cheeseburger which also use 100% Aussie beef and no added hormones.
The Cheeseburger Pies contain an Australian beef, pickle, tomato sauce, and cheese filling, and is encased in crisp, golden pastry, topped with sesame seeds.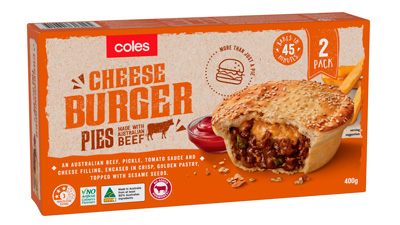 The Spicy Burrito Pies have a Mexican-style beef filling with tomato salsa and jalapeños, encased in a crisp golden pastry, hand finished with paprika.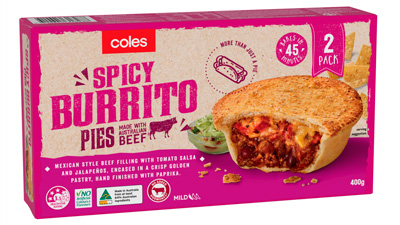 They've also released two vegan pies under their 'Nature's Kitchen' range with Hearty Mushroom And Lentil Pies and Plant-Based Cheesy Cauliflower Pies.
The Hearty Mushroom and Lentil pies have an indulgent caramelised mushroom, carrot & lentil filling and are encased in crisp, golden pastry and finished with tarragon.
The Plant-Based Cheesy Cauliflower Pies have a rich, gooey vegan cheese and cauliflower floret filling, encased in a crunchy golden pastry, finished with chive flakes.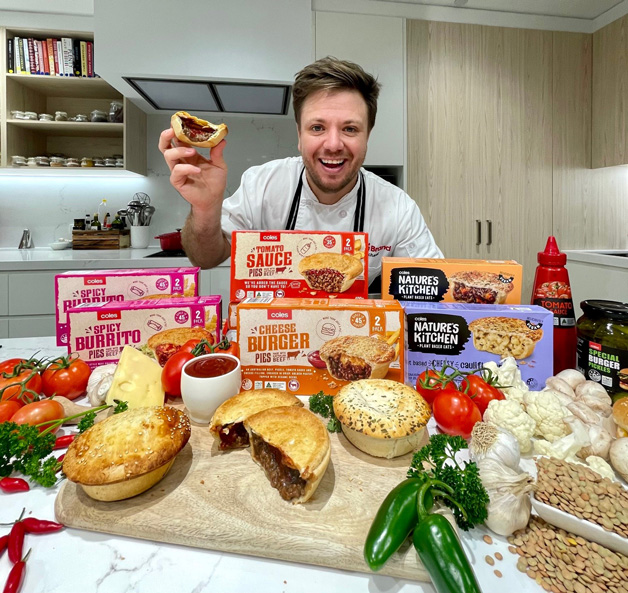 Coles General Manager for Dairy and Freezer Charlotte Rhodes said about the new range:
"We've seen widespread excitement around flavour mash-ups at Coles and we're always listening to customer feedback to shape up new product launches while having some fun with popular flavours."
"Frozen meat pies are one of the most popular products in the freezer aisle with more than 7500 tonnes sold over the past year alone – and we think it's time to have some fun with the flavours as we lead into the colder months when customers are buying more frozen meals to warm up at home. The fusion of flavours in the new range allows us to deliver new and exciting meals that our customers haven't seen before at Coles, and with the addition of two vegan options in our Nature's Kitchen range we're helping to make the range more accessible to all customers."
The new Coles Frozen Pie range comes in packs of two for $5 and can be found in the frozen food section. The Spicy Burrito Pie is available in every state except Australia.
Image Credits: (Supplied by Coles)