Hydralyte recalled over miscarriage fears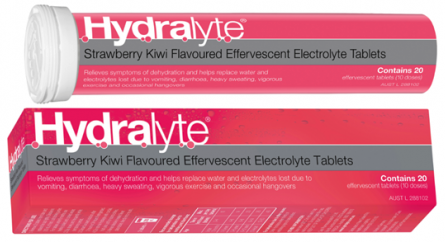 A popular drink product is being recalled over fears an ingredient could lead to miscarriage in pregnant women.
The Therapeutic Goods Administration says that 10 batches of the Hydralyte strawberry kiwi effervescent electrolyte tablets pose an unacceptable risk due to the presence of safflower.
The inactive ingredient can be known to bring on menstrual periods, cause uterus contractions and even miscarriage in pregnant women.
"The level of exposure of Carthamus tinctorius (safflower) in this product poses an unacceptable risk if used in pregnancy," the TGA said on Friday.
"The TGA investigation concluded that the safety of Hydralyte Strawberry Kiwi Effervescent Electrolyte Tablets was unacceptable as it may expose consumers to Carthamus tinctorius during pregnancy.
"Further, the product does not contain the mandatory label warning 'Do not use if pregnant or likely to become pregnant' due to the inclusion of Carthamus tinctorius as an inactive ingredient. This issue does not affect any other Hydralyte flavours or products," the recall reads.
The recall affects all batches within the current expiry date (10 batches in total).
The affected batch numbers are:
L9136/1
L9198/7
L9268/5
L9309/1
L0108/11
L0205/4
L0031/7
L0031/8
L0066/4
L0311/5
"You should stop using this medicine if you are pregnant or if becoming pregnant is a possibility," the TGA advises.
"If you have any of the affected batch numbers of the medicine detailed above, the remaining product can be returned to the place of purchase for a refund."
Image Credit: Supplied TGA
Byline: Monique St Clair