Charlie Bit My Finger Sold as an NFT for $760,999 and Will Be Removed From Youtube
The viral Charlie Bit My Finger video on Youtube has been sold as a non-fungible token and will be removed from Youtube. The NFT sold for $760,999 (USD).
The 55-second video was originally uploaded in 2007 and was the most viewed Youtube video for 171 days in 2009. It currently has almost 884 million views, with 2.3 million likes, and has been unlisted on Youtube due to the sale.
The final two bidders in the auction were between "3fmusic" and "mememaster" with "3fmusic" ultimately winning the bid at $760,999. There were 11 active bidders overall. As well as owning the video, the winner will also get to create their own parody of the video including the original stars, Harry and Charlie. The family says:
"The NFT winner will have the opportunity to create their own parody of the video featuring the original stars, Harry and Charlie. Star in it yourself, or give the honor to the biggest Charlie Bit My Finger fan you know, and recreate a hilarious modern-day rendition of the classic clip."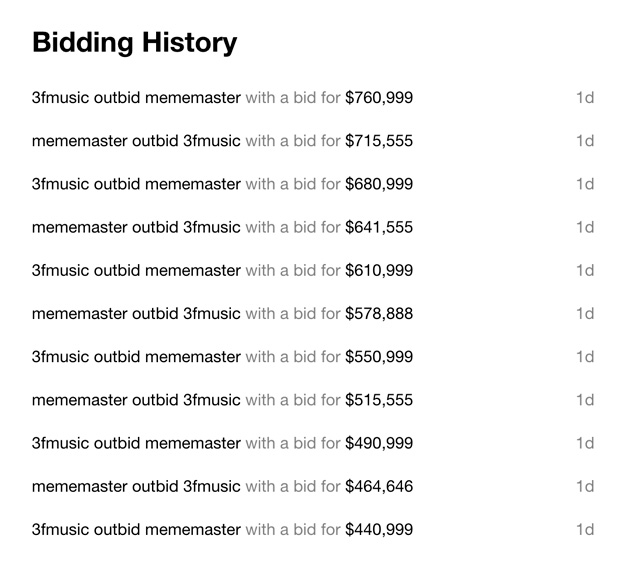 In the clip, we see Harry Davies-Carr (aged three in the video) and Charlie Davies-Carr (aged one) sitting on a couch. Charlie, sitting on Harry's lap bites his finger and he says with a smile, 'Charlie bit me.' Harry then decides to put his finger in Charlie's mouth himself, and as Charlie chomps down, Harry says "ouch" and with the strength of his bite getting stronger, Harry's "ouch" gets louder. "Ouch Charlie, Owwww! Charlie that really hurt!" He exclaims. Charlie then laughs and Harry says. "Charlie bit me, and that really hurt Charlie and it's still hurting."
The video description says:
Even had I thought of trying to get my boys to do this I probably couldn't have. Neither were coerced into any of this and neither were hurt (for very long anyway). This was just one of those moments when I had the video camera out because the boys were being fun and they provided something really very funny.
The video became an internet sensation and many variations and parodies of the iconic clip were created. It comes after the Disaster Girl meme sold last month in an NFT auction for $500,000. The record for the highest sale for an NFT was $69 million (USD) for a digital artwork titled 'Everydays: The First 5000 Days' by an artist named 'Beeple'.
22 million people tuned in for the final moments of @Beeple's historic sale this morning, which totaled $69.3 million. Relive it from the artist's POV in this link! #beeple #digitalart #digitalartist #artist #art #thefirst5000days #nft https://t.co/XaREV5Fdvu

— Christie's (@ChristiesInc) March 11, 2021
What is an NFT? Watch the video below to learn more:
Image Credit: (@HDCYT / Youtube)