How to see the Moon Turn Red on May 26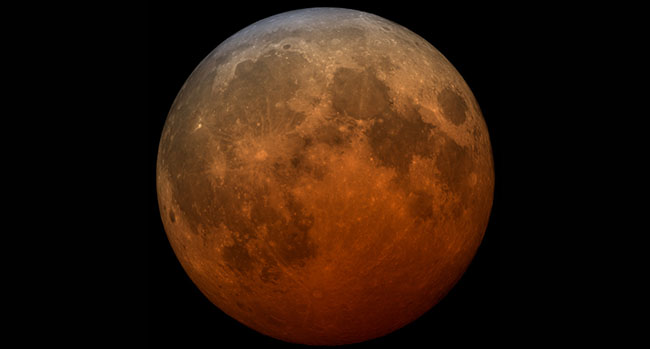 The moon is going to turn red on the night of Wednesday 26th May 2021 thanks to a trio of spectacular celestial events in our night sky.
Make a wish for clear skies because we're being treated to a Super Flower Blood Full Moon Eclipse!
We're already howling with excitement!
Not only is it a full moon, but it'll be the closest approach of our moon this year, making it a supermoon as well. Expect it to appear huge and bright in the sky.
And thanks to the sun, Earth and moon lining up perfectly, it'll create a full lunar eclipse as well, causing the moon to turn blood red - yes for real! And you'll be able to see it with the naked eye.
This supermoon is also called a Flower Moon by Native American people due to flowers blossoming around this time, so that adds to the magic too.
Here in Australia, the entire eclipse will be visible from beginning to end - and it's the only full lunar eclipse of 2021, so it'll be one to watch.
The eclipse will last for about 5 hours, starting at 6.47pm and finishing at 11.49pm.
But set your watches for 9.11pm so you can see the 14-minute period when the moon will turn blood red!
If the weather's predicted to be cloudy in your area, you can catch a livestream from another spot in the world with hopefully better conditions. Check out these links below - you can even stream it to your TV, turn off the lights and pretend you're sitting in your backyard!
Here's where to livestream it if you get bad weather
Solar And Lunar Eclipse Australia
This Facebook page from North Queensland will livestream high resolution footage of the eclipse from 6.30pm - watch it here or view the embed below:
TimeandDate.com
Their livestream will start from 7.30pm AEST on May 26 and will have some commentary - we've embedded it for you so simply bookmark this page and come back to see it live.
European Space Agency (ESA)
The ESA will be livestreaming the eclipse from telescopes in Western Australia and will include commentary from astronomers, scientists and other experts. It starts at 7:30pm AEST on May 26 - watch it here.
And if you like a side of astrology with your celestial events, apparently this Super Flower Blood Full Moon Eclipse will bring big changes and unexpected surprises, especially around people or situations or things you really need to let go of. (Time to give up those binge-watching sessions on the sofa and start that creative project instead?!)
Image: NASA's Scientifc Visualization Studio