Aussie Audiences React to The Weakest Link Reboot With Magda Szubanski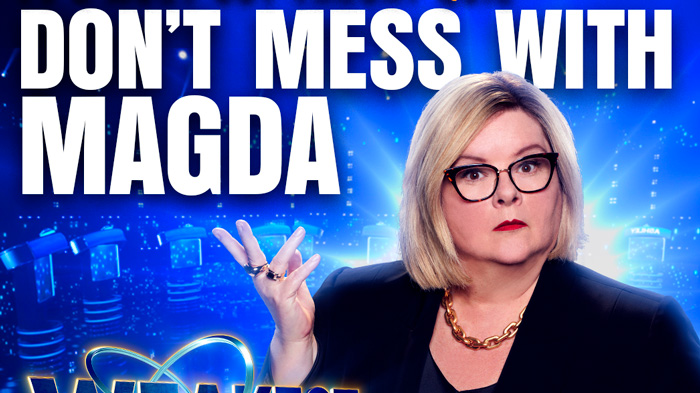 The Weakest Link Australia made its premiere with new host Magda Szubanski and Australian audiences have given it mixed reviews.
The quiz show returned to Australian screens this week after the original series finished nineteen years ago in 2002. The original show was hosted by the late Cornelia Frances.
Magda's unleashing hell on #WeakestLinkAU, tonight 9.00pm! 🙌 pic.twitter.com/c1C7WuGXIq

— Weakest Link Australia (@WeakestLinkAU) May 25, 2021
Many viewers compared the two hosts and thought Szubanski's character did not live up to Frances' harsh demeanor.
Get your game face on 😏 #WeakestLinkAU pic.twitter.com/rAzwqIMhKu

— Weakest Link Australia (@WeakestLinkAU) May 25, 2021
The rules of our game, explained!#WeakestLinkAU starts Tuesday 9.00pm on @Channel9 🔗 @MagdaSzubanski pic.twitter.com/NJPA7DTY6x

— Weakest Link Australia (@WeakestLinkAU) May 19, 2021
The premise of the show remains the same, a group of contestants work together in order to reach the maximum prize money. Szubanski explains:
"Eight contestants come to the studio as strangers, but must work together as a team to reach the maximum prize money for each round. By taking it in turns to answer the general knowledge questions, the contestants try to build chains of correct answers and at the end of each round, each contestant votes to eliminate the fellow contestant they consider to be the weakest link in the chain. With $250,000 on the line, there can only be one winner. And the words you don't wanna hear me say are, "You are the Weakest Link, Goodbye."
Original #WeakestLinkAU Premiere (February 2001) over two decades ago, hosted by Home and Away's Cornelia Frances on Seven:

[YouTube]https://t.co/62wDCXQiDg

— Mr TV Australia (@MrTVAus) May 25, 2021
After the first episode, viewers seem to have not resonated with Szubanski acting as the mean host as Australian audiences are used to her charismatic and loveable character.
10 mins into #WeakestLinkAU and I couldn't cringe harder. Magda's overacting and scripted put downs are unbearable. Cornelia Francis would be horrified at what they're doing to her legacy.

— Builder Bird (@builderbird) May 25, 2021
Nobody can say GOODBYE quite like Cornelia Frances. RIP 🙏🏻 #WeakestLinkAU

— Adora Herveaux (@adoraherveaux) May 25, 2021
just said the same thing.

— Nez (@fraggle73) May 25, 2021
The genius of Magda was her ability to create outrageous characters with a ring of truth about them. This character she's playing now is not in any way a real person. It's just ... odd. #WeakestLinkAU

— Jason Whittaker (@thetowncrier) May 25, 2021
Thankyou @MagdaSzubanski for restoring my faith in Australian Game Shows on TV.... you made #theweakestlink an instand fixture in my life.

End Transmission.

— Anthony James (@Mooopah) May 25, 2021
Absolutely LOVED seeing @MagdaSzubanski back on my screen! Her comedic genius/nostalgia paired with trivia is the kind of casual and fun free to air television I've been craving!!!#theweakestlinkau #theweakestlink#WeakestLinkAU

— newyearsresolution (@what_no_sure_ok) May 25, 2021
Watch the first episode and tell us what you think!
If you don't stream last night's #WeakestLinkAU on @9Now, you are the Weakest Link. Goodbye.https://t.co/5JtDgG300l

— Weakest Link Australia (@WeakestLinkAU) May 25, 2021
Image Credit: (@WeakestLinkAU / Twitter)