GoT prequel House of the Dragon release date announced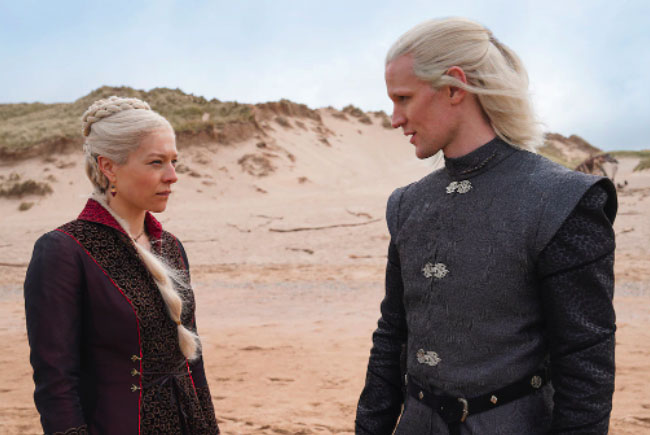 Fans eagerly awaiting the Game of Thrones prequel House of Dragons now have a release date along with some new cast photos!
HBO teased fans about the new series last October and have just announced the series will arrive in Australia on August 22 this year.
It will be available on Binge and Foxtel, where you can also watch all the previous seasons of Game of Thrones in case you need a refresher.
The highly anticipated series takes place 200 years before the events of Game of Thrones and will detail the peak of the Targaryen empire in Westeros over 10 episodes.
It will follow the events leading up to and surrounding the Dance of the Dragons, the civil war that broke out among the Targaryens over who would succeed to the Iron Throne.
The cast includes Paddy Considine, Matt Smith, Olivia Cooke, Emma D'Arcy, Steve Toussaint, Eve Best, Sonoya Mizuno, Fabien Frankel and Rhys Ifans alongside two new dragons.
The series also features Aussie actors Milly Alcock as young Princess Rhaenyra Targaryen and Ryan Corr as Ser Harwin 'Breakbones' Strong.
New cast photos

Paddy Considine as King Viserys Targaryen:

Matt Smith as Prince Daemon Targaryen:

Emma D'Arcy as Princess Rhaenyra Targaryen
:

Olivia Cooke as Alicent Hightower:

Rhys Ifans as Otto Hightower:

Steve Toussaint as Lord Corlys Velaryon, 'The Sea Snake', and Emma D'Arcy as Princess Rhaenys Targaryen:

Milly Alcockas Young Rhaenyra and Emily Carey as Young Alicent:

Fabien Frankel as Ser Criston Cole:

Sonoya Mizuno as Mysaria:
The series is based on George R.R. Martin's book Fire & Blood.
In mid February, he wrote on his blog about being happy with production of the episodes so far. "I have seen rough cuts of a few of them, and I'm loving them," he wrote. "The writing, the directing, the acting all look terrific. I hope you will like them as much as I do."
He's also announced the publication of The Rise of The Dragon, a lavish visual history of House Targaryen featuring over 180 all-new illustrations.
Hopefully a new trailer is coming soon to update us on the teaser trailer from October 2021:
Main image: HBO