Meet The Full Cast of MasterChef Australia: 'Fans and Favourites' 2022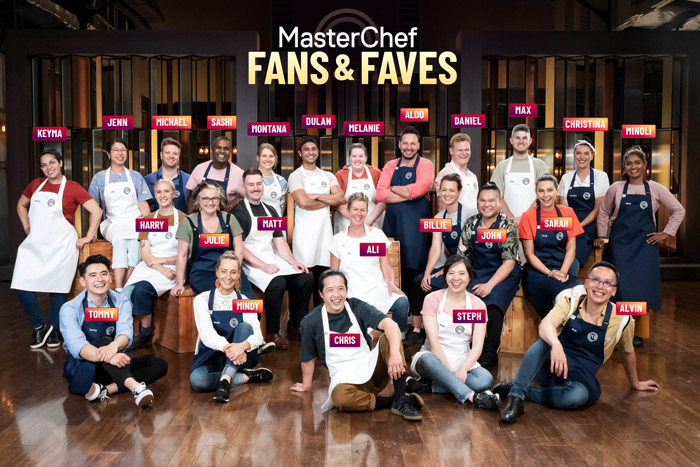 MasterChef Australia is back bigger than ever and the Top 24 contestants have been revealed for its 14th season, MasterChef Australia: Fans & Favourites. The new season will see 12 previous contestants returning to compete along 12 new everyday home cooks.
Andy Allen, Melissa Leong and Jock Zonfrillo return as judges to test the next batch of hopefuls with tough challenges, pressure tests and masterclasses.
Amongst the handful of MasterChef favourites, Season 1 winner Julie Goodwin is back to fight for the MasterChef title. Season 7 winner Billie McKay and Season 10 winner Sashi Cheliah are also back to take the title once again. They'll be competing with fan favourites, Alvin Quah (Season 2), Michael Weldon (Season 3) Mindy Woods (Season 4), Christina Batista (Season 5), Sarah Todd (Season 6), John Carasig (Season 7), Aldo Ortado (Season 10); and from latest season, Minoli De Silva and Tommy Pham.
The line-up of amateur chefs competing have professions in dentistry, teaching, finance, firefighting and even TikTok. The winner will claim the title of Australia's MasterChef 2022 and $250,000 in prize money.
Meet your Masterchef Australia Class of 2022 below
---
FAVOURITES

---
Julie Goodwin Season 1 Winner
The first-ever winner of MasterChef Australia back in 2009 is back to challenge herself and win the title in 2022. Her first career was as a youth worker but since her MasterChef Australia victory, Julie has become a Aussie television staple with numerous successful cookbooks.
---
Billie McKay Season 7 Winner
After winning season 7 of MasterChef Australia, Billie took up the offer to work with Heston Blumenthal, moving to London to be part of three-Michelin star restaurant, The Fat Duck. Returning home, she continued to pursue her love of cheesemaking on her family dairy farm.
---
Sashi Cheliah Season 10 Winner
After winning Season 10, Sashi went on to open restaurants in Melbourne and Adelaide, and his son Ryan even competed in Junior MasterChef Australia. The Indian, Malaysian and Chinese cooking of his youth won him the title in 2018 and now he's back to prove he can do it again.
---
Aldo Ortado Season 10
---
Alvin Quah Season 2
---
Christina Batista Season 5
---
John Carasig Season 7
---
Michael Weldon Season 3
---
Mindy Woods Season 4
---
Minoli De Silva Season 13
---
Sarah Todd Season 6
---
Tommy Pham Season 13
---

FANS

---
Ali Stoner, Victoria @rovinghaggis Occupation: Artist
---
Jenn Lee, Queensland @plsfeed_jenn Occupation: Dentist
---
Chris Tran, Victoria @culinography.ct Occupation: Marketing Advisor
---
Daniel Lamble, Northern Territory @_instalamb Occupation: Firefighter
---
Dulan Hapuarachchi, Victoria @thisisdulan Occupation: Financial Analyst
---
Harry Tomlinson, Victoria @big.yummers Occupation: Barista And Coffee Roaster
---
Keyma Vasquez Montero, Victoria @keymav Stay At Home Mum
---
Matt Landmark, Victoria @mattstication Occupation: Secondary Teacher
---
Max Krapivsky, Victoria @mkrap Occupation: Osteopath
---
Melanie Persson, Western Australia @theveryhungrycoeliac Occupation: PhD Student
---
Montana Hughes, Queensland @monmackfood Occupation: TikTok Influencer
---
Steph Woon, Victoria @stephwoon Occupation: Banking Analyst
---
You can read more about the cast at the official MasterChef Australia website here.
MasterChef Australia: Fans & Favourites will premiere on Easter Monday, April 18, 2022 on Channel 10 and 10 Play on Demand.
Image Credit: (MasterChef Australia / Channel 10)