Australian Billionaire Couple Reveals Why Their Children Won't Get Their $27 Billion Fortune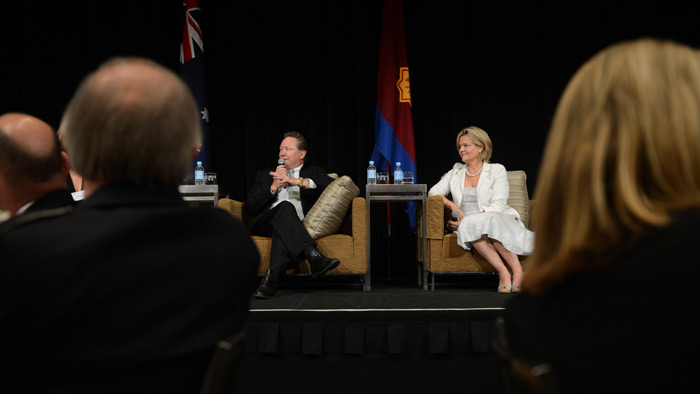 Mining magnate Andrew "Twiggy" Forrest and partner Nicola Forrest have revealed in a recent interview that their children will not receive their total fortune worth over $27 billion and that it will go towards charitable causes instead.
In an episode of ABC's Australian Story titled, 'The Undercover Billionaire | Nicola Forrest', the couple shared their philosophy on sharing their wealth. Andrew 'Twiggy' Forrest said that giving away their fortune was an easy decision. He says:
"The decision to give away everything but the personal things and the goods and chattels was really quite an easy decision. You know, let's not die wealthy, what's the point of that?"
Tonight's #AustralianStory The Undercover Billionaire starts now (AEST) on @ABCTV and live on our Facebook https://t.co/NSg0ukCtHE pic.twitter.com/WuxB6HzGwG

— AustralianStory (@AustralianStory) April 25, 2022
Nicola goes on to share that she thinks that giving their three children, Grace, Sophia and Sydney their fortune would be a burden. She says:
"Children don't benefit from thinking they're going to inherit a huge amount of money. I think it's a burden."
"You might have questions about … the way they've made their money. But clearly they've made a big commitment to supporting a whole range of causes that are unambiguously good." #AustralianStory pic.twitter.com/723zj3VKP0

— AustralianStory (@AustralianStory) April 25, 2022
Their daughter Sophia, who is an actress says in the interview that during a school pick up, her parents shared their thoughts on giving their wealth away. She explains the moment their parents discussed it with them saying: 
"Hey kids we're thinking, we're always gonna be there to take care of you, and we'll make sure you'll never starve to death but we have more money than we need and what do you think about giving it all away. I mean how do you say no to that? 
The interview also explained the very personal motivation behind the couple's philanthropy, with the couple experiencing a tragedy during the birth of their third child, Matilda who was stillborn. This drove Nicola to help other families.
The Forrests were the first Australians to sign @BillGates @melindagates Giving Pledge. The mining billionaires plan to give away the "vast majority" of their $25bn in their lifetime. For Nicola Forrest, the reason is personal #AustralianStory pic.twitter.com/piE6A2RnJR

— AustralianStory (@AustralianStory) April 25, 2022
The couple were also the first Australians to join "The Giving Pledge" which was established by Bill and Melinda Gates and Warren Buffet. To join the club you have to be a billionaire and commit to giving away more than half of your wealth to charitable causes before you die. The Forrest's signed the pledge in 2013 and Nicola explains in her interview:
"There reaches a certain point where you don't need any more money. So we've been members of the giving pledge for almost ten years."
In their pledge letter they write:
"As a family we agreed many years ago to give away the majority of our wealth. We felt that if our children were to inherit considerable wealth, it would only get in the way of them striving for and achieving their best, and truly making a positive difference in other people's lives."
Image Credit: (AAP Image/Dean Lewins)