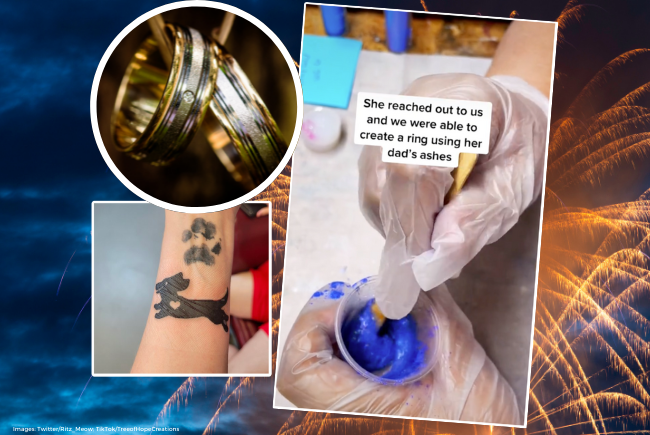 No-one likes to think about death, but when it comes to keeping memories alive after a loved one has passed, these creative options might inspire you.
The only two certainties in life are death and taxes.
And when it comes to death, it's usually a choice between burial or cremation.
Article continues after this ad
Advertisement
(Let's ignore the eccentric millionaires who've been cryogenically frozen in the hopes of being revived when scientists eventually work out how to do that.)
A recent study* of more than 1,000 Australians showed about 58 per cent of people would choose a cremation if creative options for the ashes were available – such as being pressed into a jewel, placed in a firework or mixed with ink for a tattoo.
And while there's nothing wrong with sprinkling ashes in a river or keeping them in an urn on the mantelpiece, sometimes you just want your loved ones to feel closer.
It turns out there's already a thriving market in putting loved one's ashes into rings and pendants, turning them into meaningful tattoos or sending them off with a bang as fireworks. And not just relatives but our loving pets who've crossed the rainbow bridge too.
It's not as morbid as you think either. (Okay, maybe the Christmas tree one is.)
Article continues after this ad
Advertisement
Here's some ways to remember your loved one (though we hope you don't have to think about these options too soon.)
Jewellery
Putting your loved one's ashes into jewellery is a way to keep them closer wherever you go, from rings to pendants and even a Christmas decoration (which is basically jewellery for a tree, right?).
Some pendants open up so you can spoon some ashes into it yourself, while other rings are made by actually mixing the ashes into the resin with stunning results.
It's particularly popular for pets.
Article continues after this ad
Advertisement
For one bride-to-be, adding her father's ashes to a ring was a magical way to have him at her wedding.
I'm not usually into memorial jewellery but I had a ring made with some of Rena's ashes. It arrived today. You can choose from a range of coloured resins for the ash strip. I opted for black with a little diamond dust mixed in as she was a black girl with a diamond dusted face 🖤 pic.twitter.com/xmwkdOHeX6

— Surrey Sighthounds (@SurreyGrey) February 24, 2022
— Melody Hohensee (@Mluvsmusic) October 22, 2021
Article continues after this ad
Advertisement
Good morning #CraftBizParty #UKGiftAM this wk I was contacted by a jeweller to put some ashes into a necklace he had made. Today I am delivering it back. Fingers crossed it's what the lady wanted. #jewellery
Enjoy the sun ☀️ everybody 💕 pic.twitter.com/sn2lKeAViZ

— Rise n Design (@RisenDesign1) July 17, 2021
Just picked up the last keepsakes of my Dog. Glass balls with her ashes and mum had a ring wish ashes in. Im actually surprised how much ashes there is as we also have a box of ashes and got given a bag of ashes today too. pic.twitter.com/AFCmdMPCRU

— Ryan (@RyanTheKnob) May 20, 2022
Pride of place Dad at the top of the tree. Shining like you always did. Beautiful memorial pieces from Ashes Memorial Jewellery. ❤ pic.twitter.com/vtuVBIZzIC

— Kay ♡ (@KayWestgate) December 15, 2019
Tattoos
Article continues after this ad
Advertisement
Tattoos have long been used to remember special moments and people, and now this can go a step further with some tattooists willing to mix your loved one's ashes directly into the ink.
Just like my dad did, I got my dad's ashes mixed in the tattoo ink. He used to write stuff like this in all my cards. Love you dad! And a special thank to Mike Bailey for taking care of me and my sisters today! Love ya! pic.twitter.com/ofHwGKnGU7

— madison (@madiisonbaiiley) June 28, 2020
Memorial tattoo done for Oscar ❤ the tattoo ink has his ashes in it, and it's right below his paw print I got a while ago.
Tattoo done by @FoxeneStarr pic.twitter.com/DEEUe5ZlqV

— Ritz Bitz 💗💜💙 (@Ritz_Meow) September 12, 2021
Fireworks
We use fireworks to celebrate many things, so why not life too? Journalist Hunter S. Thompson famously shot his ashes out of a cannon in 2005, so like him you can go out with a bang but with a bit more colour and fanfare.
Article continues after this ad
Advertisement
Or if you prefer something a little more unique, there are companies that will put your ashes inside a firework allowing your loved ones to have an epic celebration of your life. Talk about going out with a bang! #funeral #fireworks pic.twitter.com/Y9nS4jjlq7

— Just Cremation (@justcremation) March 5, 2020
Funeral of the Day: Dublin man's ashes turned into fireworks for Halloween celebration https://t.co/j8QpNWYFIX pic.twitter.com/pJZqcdED5T

— Cheezburger (@Cheezburger) November 3, 2016
But why stop at ashes?
It seems all kinds of DNA are ripe for memorialising.
Article continues after this ad
Advertisement
Please follow hareandmoon.keepsakes on Instagram, she does lovely keepsake jewellery with ashes, breastmilk, human or pet hair, umbilical cord and more!
Mine is breastmilk and hair, with lokis name engraved on the inside🖤 pic.twitter.com/aIzaj42ePn

— Juliet Ward🦇 (@_forest_vvitch_) July 11, 2020
And yes, death is serious but it helps to have a side of humour
I just told bae to turn my ashes into a diamond ring OR plant me as a Venus flying trap after I pass 😆

— Anjanette Lanae (@AnjanetteLanae) September 5, 2019
When I die I request that my ashes be compressed into a diamond, embedded in an engagement ring, and sold cheaply to a pawn shop.

I want to spend my afterlife haunting couples, each one eventually breaking up and pawning me again and again.

I can imagine no greater rest.

— Jon Aldric | Necromancer on DMs Guild (@5etrash) May 28, 2021
Though we think make-up might be going a bit too far?
Article continues after this ad
Advertisement
When I die press my ashes into tattoo ink and eyeshadow pallets pic.twitter.com/WIuhU0MGAM

— yunggrandma209 (@Jennifreshhhh) June 1, 2016
*The study was by Antenna Strategic Insights.