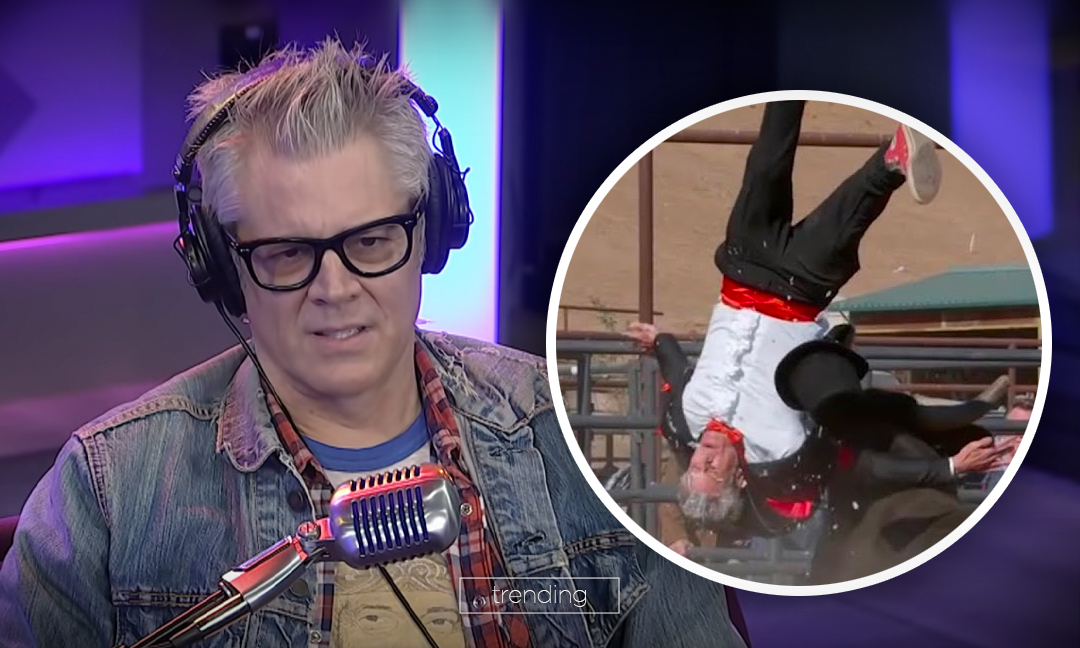 Jackass co-creator Johnny Knoxville is done with 'large stunts' after a bull-charge left him with broken bones and hemorrhaging in the brain.
---
During filming for the latest Jackass film, Johnny Knoxville was charged by an angry bull, which resulted in the star suffering a broken wrist, broken ribs and a severe concussion that led to a decline in his cognitive abilities.
Talking candidly about the incident on Howard Stern's radio show, Knoxville admitted that the horrific stunt was his worst hit yet.
Article continues after this ad
Advertisement
"My cognitive abilities were in steep decline after that hit," he said.
When asked what his wife thought about the traumatic experience Knoxville responded, "No one in my family is happy with the stunt."
"The bull hit was the worst hit I've ever taken from a bull or maybe period. I remember taking some tests. The neurosurgeon said, 'Do you have trouble paying attention right now?' I said, 'Yeah, why?' He goes, 'Because you scored a 17'… That's out of 100."
The head injury meant Knoxville had to undergo a series of rehabilitation treatments, including "transcranial magnetic stimulation" whereby "they buzz your head with these magnets for about 30 minutes at a time for like, oh God, I would say 10 to 12 treatments over a series of two months and it's supposed to help with depression, and help with my cognitive skills."
The 50-year-old stunt performer admitted it was a long healing process.
"It was a tough one to come back from. I was trying to edit the movie at the time but I couldn't sit still."
Not only did Knoxville suffer physical injuries from the bull stunt, but due to his cognitive impairments he was thrown into a deep depression for which he had to be medicated.
"My brain was just playing tricks on me," he said. "I got really depressed and over-focused on things."
"I did have to start medication for the first time in my life. It completely turned me around — that and doing therapy."
Thankfully the actor and filmmaker has fully recovered from his injuries, and says he's now at his best.
"It was a really hard recovery from this last injury but I'm great now. I feel like I'm the healthiest I've ever been."
Of course, this isn't the first injury Johnny Knoxville has sustained due to his commitment to Jackass.
In the early days, Knoxville broke his ankle trying to skate over the LA River, split his head open after being knocked out by a professional boxer, and got crushed by an airborne motorcycle.
In 2018, Knoxville received his most injuries to date while filming Action Point.
He suffered four concussions, broke his hand, busted his meniscus, got stitches over his right eye, lost a couple of teeth and withstood multiple bouts of whiplash.
The fourth installment in the Jackass movie franchise, Jackass Forever, will be released on February 4.
The new film will see the original jackass crew reunite for "another round of hilarious, wildly absurd, and often dangerous displays of comedy with a little help from some exciting new cast."
Article continues after this ad
Advertisement
Images: The Howard Stern Show / YouTube