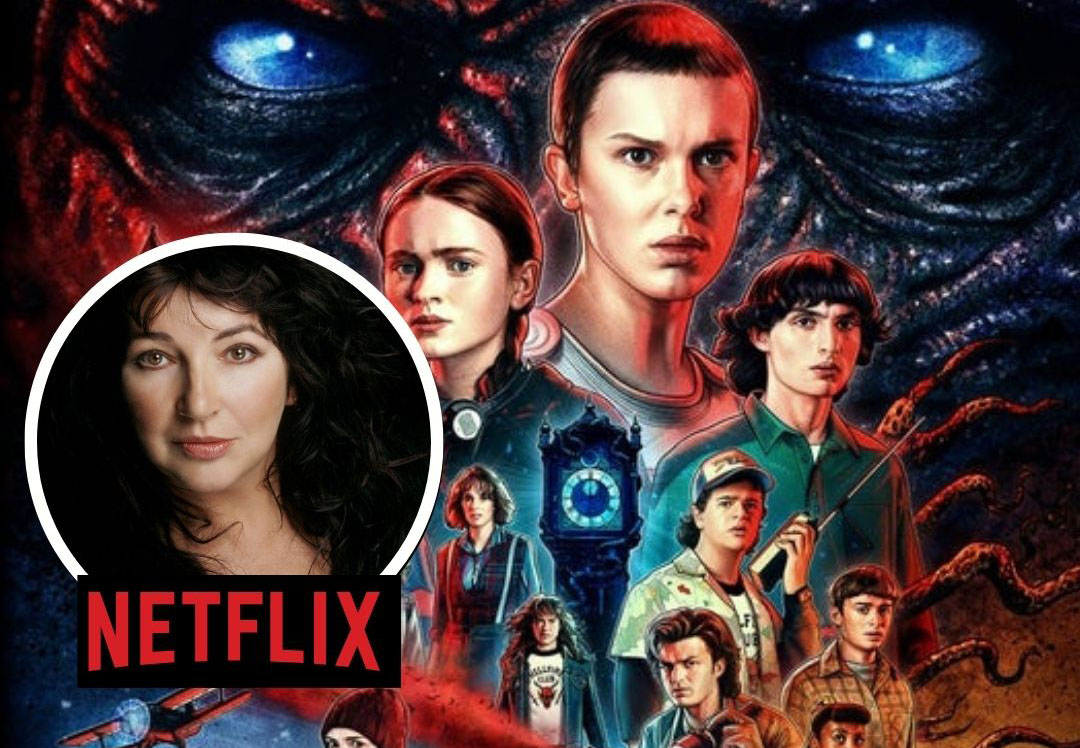 Stranger Things Season 4 dropped this week and its nostalgia for all things 80s has revived a hit song from 1985.
Kate Bush's 'Running Up That Hill (A Deal With God)' features in episode 4 of the series and a whole new generation of fans have gone wild for it, sending it to the number 1 spot on iTunes.
The song was released 37 years ago and was a hit around the world.
Article continues after this ad
Advertisement
The song plays an important part in a scene because it's one of the character's favourite songs. If we say anything more, it will be a spoiler for Season 3 and for the actual scene in Season 4.
So here's your chance to decide if you'll turn back or keep going and hear more about the song and the scene that everyone's talking about. (It's just like those other mainstays of the 80s years, the Choose Your Own Adventure books!)
If you haven't seen Stranger Things Season 3 yet, hurry up and watch it, because Season 4 is even better so far! Check out the trailer.
Spoilers coming below the trailer! You've been warned!
Ok, so Kate Bush's song features in an emotionally haunting scene where Max (played by Sadie Sink) is grappling with the grief of losing her brother Billy (played by Australian actor Dacre Montgomery) at the end of Season 3.
Article continues after this ad
Advertisement
The boys frantically go through Max's mix tapes and play the song to try and bring her back to reality.
Max & Kate Bush: another perfect Stranger Things duo pic.twitter.com/QbiXU3pmfp

— Netflix (@netflix) May 30, 2022
so iconic! #StrangerThings4 pic.twitter.com/W2O4bCfgC6

— . (@tewkstogo) May 30, 2022
the most alarming thing i've taken away from this season of stranger things is that i don't know what my favorite song is #StrangerThings

— ✨mary grace✨ (@marygraceb13) May 31, 2022
Stranger Things director Ross Duffer explained to Netflix's Tudum why the song was perfect for the scene: "Music has a power to reach people, even when they're in these catatonic states. We knew it needed to have a cinematic scope and build to it. But at the same time, it needed to be emotional, and Kate Bush's lyrics are just so emotional."
Article continues after this ad
Advertisement
i just have to say the inclusion of kate bush's running up that hill (a deal with god) in stranger things 4 episode 4 changed the trajectory of my life and permanently altered my brain chemistry thank you kate bush thank you sadie sink

— ⁂ (@gob1inatrix) May 28, 2022
And shout-out to everyone discovering/rediscovering Kate Bush through Stranger Things 4

As of May 30, Spotify streams of the legend's iconic song Running Up That Hill (A Deal with God) have increased more than 9,990% in the US! https://t.co/9ToiQMsnJL pic.twitter.com/u9Uo4GhDhE

— Netflix (@netflix) May 31, 2022
But Winona Ryder knew about Kate all along, of course.
USA Today asked Winona Ryder why she wore a Kate Bush badge to the Stranger Things premiere…

"She has a song that factors into this season's plot. I've been obsessed with her since I was a little girl. She's a hero of mine." pic.twitter.com/RhUYas60a4

— Jake 'The '80s Never Ended in my World' Rudh (@JakeRudh) May 29, 2022
It's not the first time a Kate Bush song has featured in recent movies and TV shows.
Article continues after this ad
Advertisement
'Women's Work' – another hauntingly emotional song – first appeared in the 1988 movie 'She's Having a Baby' starring Kevin Bacon but had a revival after it featured prominently in the Season 2 opening episode of 'The Handmaid's Tale' in 2018.
The following year, Kate Bush's 1985 song 'Cloudbusting' featured in the next season of Handmaid's Tale and was also used in the 2021 movie 'Palm Springs' starring Andy Samberg.
Have a listen.
Main image: Nettflix; AP Photo/EMI, Trevor Leighton