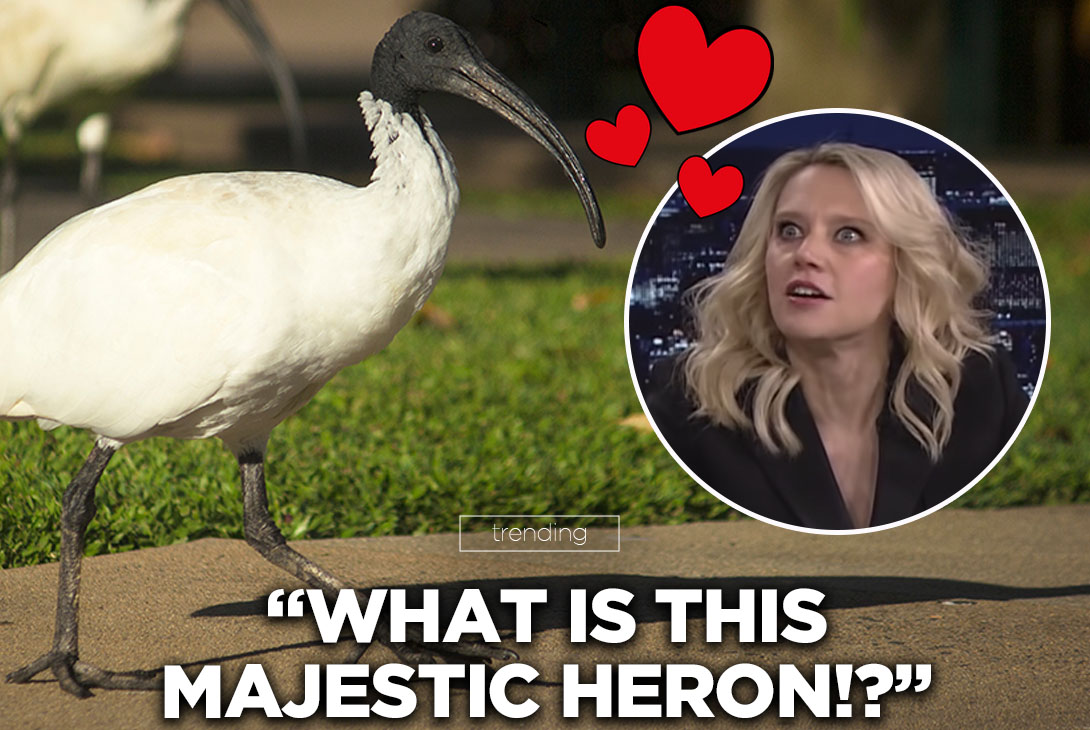 American actress Kate McKinnon has given us Aussies a belly laugh after admitting she fell in love with our most hated bird, the Bin Chicken, while filming Tiger King spin-off series Joe vs Carole in Queensland.
That's right, she thought the annoying, food-snatching, garbage-tossing, villainous Ibis was "majestic" and "gorgeous".
She revealed her hilarious love-at-first-sight encounter on the Tonight Show with Jimmy Fallon, and did a pretty good Aussie accent as she told the tale.
Article continues after this ad
Advertisement
"My first day there I was walking on the street and I saw what I thought was the most beautiful bird I've ever seen in my life," she explained, referring to a gigantic bird with "a beautiful white plumage and a long elegant beak" flapping on the sidewalk.
"And I was like, 'What is this majestic heron just loose in the street? My God I've been blessed here, this is a sight!"
When she asked a guy "What is this gorgeous bird?!" she was shocked to discover it was called a bin chicken and that we Aussies absolutely hate them.
Check out her hilarious story:
Now we want to bring Kate back to Australia and introduce her to all our weird and wonderful native animals – a Tassie Devil, a cockatoo, a platypus – and get her to give us her thoughts on them. It could become a new reality TV show: Kate commentates on Australia. And then we can send her in search of our elusive Drop Bear!
Article continues after this ad
Advertisement
And she'd be right at home, as Kate told Fallon she picked up our lingo while she was here, explaining to him and the audience our love of abbreviating words like sunglasses to sunnies and mosquitoes to mozzies.
Joe vs Carole premieres on Stan on March 4
In the meantime, we get to see Kate in the Stan series Joe vs Carole from March 4, which is based on the Wondery podcast Joe Exotic: Tiger King.
When Carole Baskin, a big cat enthusiast, learns that when fellow exotic animal lover Joe "Exotic" Schreibvogel is breeding and using his big cats for profit, she sets out to shut down his venture, inciting a quickly escalating rivalry. But Carole has a checkered past of her own and when the claws come out, Joe will stop at nothing to expose what he sees as her hypocrisy.
It's going to be a ride! And there'll be no bin chickens in sight!
Article continues after this ad
Advertisement
Main image: Trevor Charles Graham/Shutterstock.com, YouTube/The Tonight Show with Jimmy Fallon