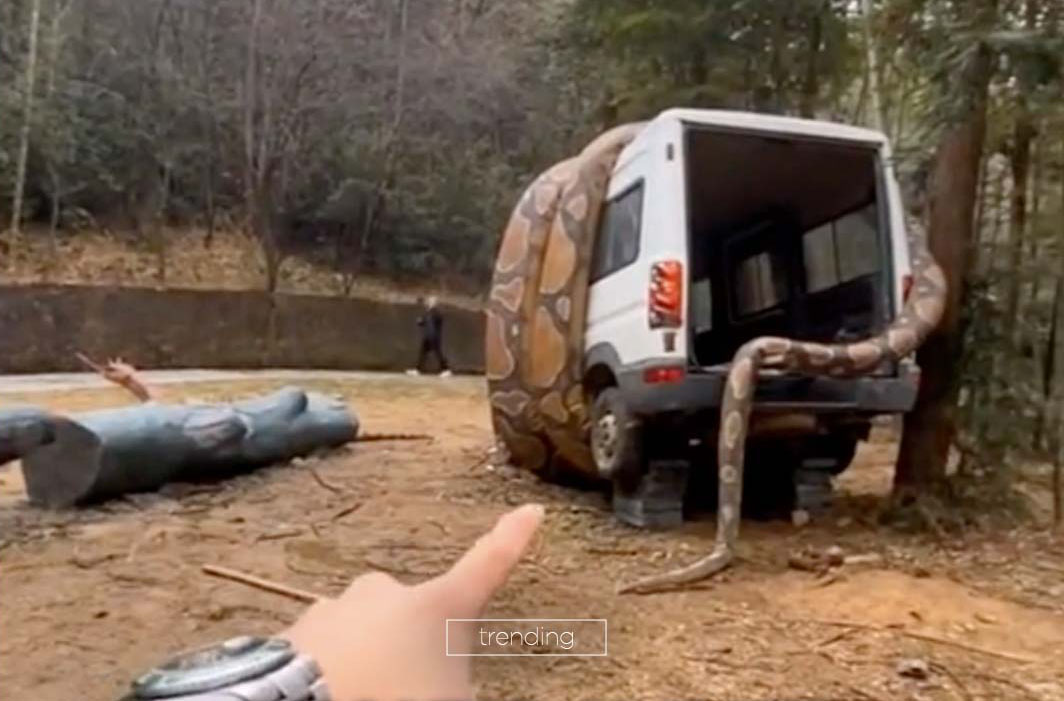 A video of a gigantic python wrapped around a van has freaked out the internet, with the video amassing 93 million views and more than 63,000 comments on TikTok and steadily rising.
The viral clip uploaded by thegemsfamily shows a small white van appearing to be 'eaten' by the snake, which has wrapped itself several times around the van.
It's a chaotic scene, with a shaking hand pointing to the snake and audio of panicked, shouting voices.
Article continues after this ad
Advertisement
The clip was posted without any description, leaving it up to viewers to decide if it was real or not. And given it was filmed from a distance, it was a little hard to tell at first.
"The next illogical fear to talk to my therapist about" wrote one commenter, while another said, "I held my phone far because i thought it was gonna be a jumpscare 😭". Another joked, "That is going to be a[n] interesting insurance claim. "Sorry you didn't take the reptilian crushing cover".
And there were of course many comments referencing snakes and Australia: "Let me guess you live in Australia."
While plenty of people were asking if it was real, there were many who guessed that it was, in fact, a prank.
Article continues after this ad
Advertisement
"I've seen moon landings that look more real," wrote a commenter who didn't fall for it.
A follow-up video showed the python up close and not moving, clearly revealing it to be fake, possibly inflatable.
One person wasn't too pleased at being tricked either. "I removed my like from the last video, I don't like being lied to," they wrote.
The follow-up video's only been viewed by nearly 2 million people so it'll probably take awhile for the truth to be fully realised.
Article continues after this ad
Advertisement
Another video of the scene by naturelife_ok on Instagram explains that it's an art installation in a zoo, though they don't say where.
Image: TikTok/thegemsfamily