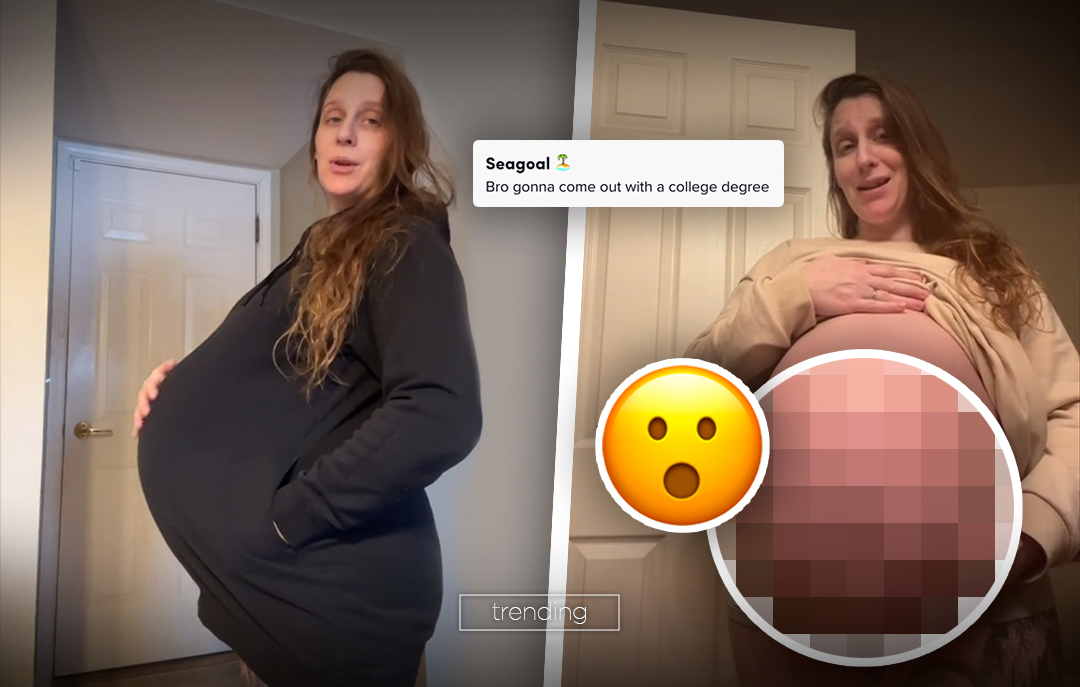 Video of a pregnant woman's baby bump goes viral for being bigger than Ben Hur: "There's a full grown adult in there!"
---
Pregnancy is one of those things described as an equally beautiful AND horrid experience.
Sure, you're creating and baking a new life inside of you, but you're also stuck with cankles, cravings, back pains and an evergrowing weight strapped to your torso.
Article continues after this ad
Advertisement
For some, this weight may swell up more than others, creating something akin to a 2-bedroom-apartment in your tummy for little bub to enjoy.
However, one woman's baby in the US has clearly demanded a 3-winged-mansion to grow in, as her baby bump is incredibly huge!
Clearly aware of her abnormal size, the mum named Renae posting a video to TikTok.
In the short clip, she can be seen lipsyncing the words, "Oh hey, thanks for checking in. I'm still super f**king pregnant."
The expecting mother, who was 37 weeks pregnant at the time, announced she couldn't wait to meet her little bub and confirmed, "yes it's just one. I'm sure gonna miss my #BigBump."
Article continues after this ad
Advertisement
Amassing over 2.5 million likes, the video has prompted some jovial responses from viewers.
"I swear you have like 4 twins in there," wrote one user.
"Bro gonna come out with a college degree," quipped another.
Article continues after this ad
Advertisement
"You got a whole NFL player in there," added someone else.
Another wrote, "gonna come out 12 years older than she is."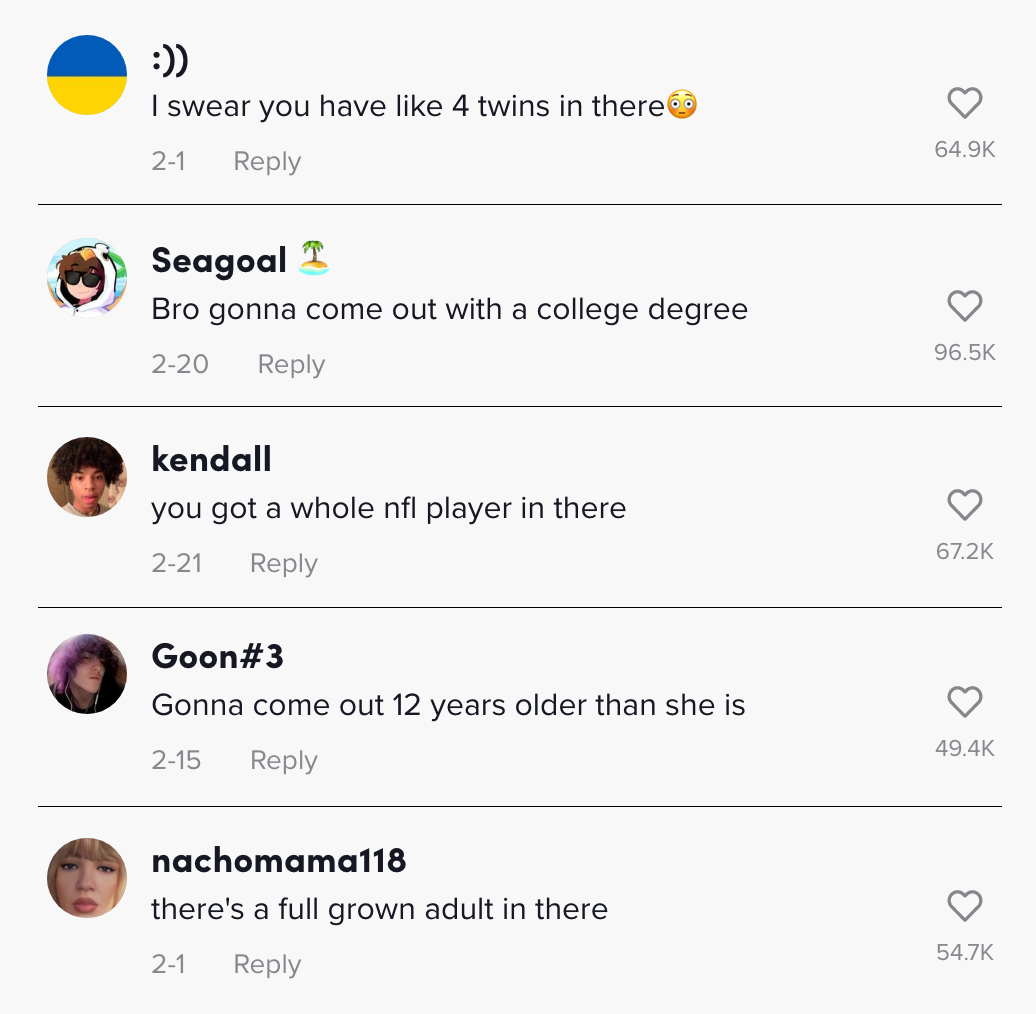 ---
While most comments were light-hearted, there were several that suggested the large bump might point to a high-risk pregnancy.
One Dr Michael Narvey even responded with a video of his own, expressing his concern around particular issues associated with large bumps.
So, Renae did what we all would've. She posted another video responding to the doubters.
Article continues after this ad
Advertisement
"I've stated in several of my videos [that] I don't have polyhydramnios or extra fluid or gestational diabetes."
"I had an ultrasound not that long ago, fluid is normal, baby is measuring a week and 4 days ahead."
She also confirmed that she has a doctor who specialises in "high-risk" pregnancies, and that viewers should be "ashamed" for "saying a belly shouldn't be that big, when me and baby are healthy."
---
Thankfully, the bub was born healthy, and is Renae's 5th child. Yes, he was a big bub and his head measured 15 inches at birth. Ouch.
Article continues after this ad
Advertisement
Renae claims that with her head only measuring 21 inches as an adult, he definitely "got his big head from his daddy."
---
Images: mommy1987003 / TikTok