Gran Turismo 7 has launched on PlayStation and has been met with a really positive response. I've been giving it a good nudge and working towards a full review at the end of the week but here are 7 First Impressions on Gran Turismo 7 that you should consider before you buy it.
1: When the game is installed you'll be given the option to play a mini-game before heading into the main area. It's a really clever way to give you a quick look at the impressive gameplay and amazing vehicles while getting used to driving. It's also something you'll be able to come back to time and time again to better your times and try new playlist songs to drive along to.
The mini-game is called "Music Rally" and rather than race a clock you are racing against a music track while gaining more time by travelling through checkpoints. You can keep going back in and trying new tracks with more being added later.
Article continues after this ad
Advertisement
2: The opening intro credits is a beautiful look at the evolution of the motor vehicle and worth watching. If you are getting impatient and want to jump into the game though you'll have to wait as it is not skippable on the first playthrough. After you've watched it once though you'll be able to skip past by pressing any button. On that first run-through, just sit back and take it all in while paying respects to some amazing people who made the masterpiece you are about to throw most of your life into playing.
Take a look at some screenshots of my experience so far with Gran Turismo 7 here:
3: Gran Turismo games in the past have had an issue with showing damage on vehicles. It is believed that the car manufacturers don't really want you to see their pride and joy in a game with missing panels, broken windows and large scratches down the sides. This game is about being a "precision driver" rather than a smash em up derby so by showing less damage you can concentrate on being a better driver. Things have changed ever so slightly in Gran Turismo 7, don't expect massive amounts of damage on display but you will see dents and scuff marks on your car if you think that "rubbing's racing".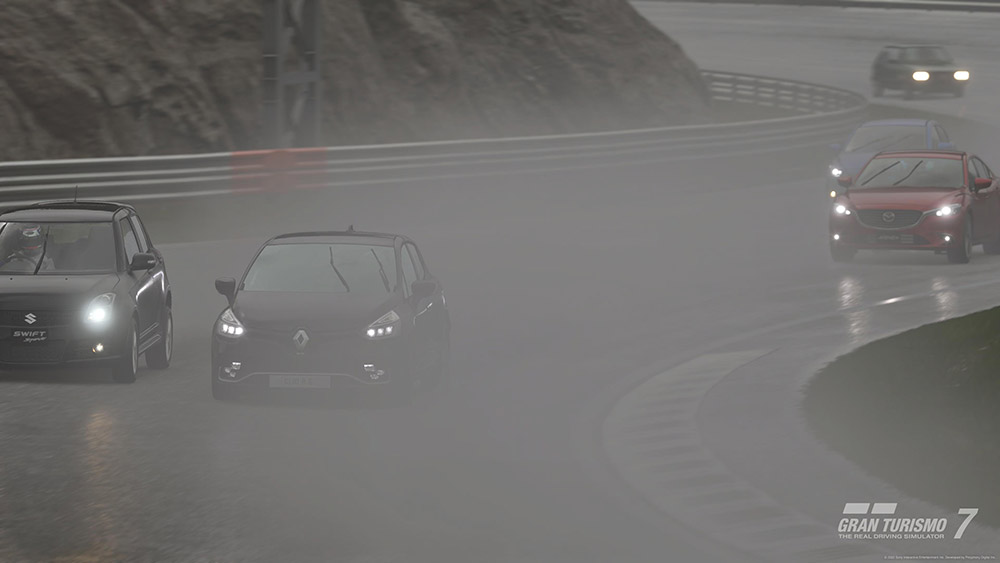 (Img: doccydarko – captured on a PS5)
Article continues after this ad
Advertisement
4: The weather effects are absolutely world-class. When it's raining, visibility is low and the rainfall feels like real-life weather. Your wipers will automatically come on and the road is affected. It's just beautiful. It's especially great when you play a two-leg race on the same track when one day is bright and sunny while the next is stormy and dark. The game is a visual masterpiece and the perfect way to show off how far these next-gen consoles have come.
5: Ray Tracing is included in the game but used sparingly for a better gameplay experience. In Ray Tracing mode the effect is limited to race replays and 3D scenery modes. The feature is disabled in actual races where your response time is important to the overall game experience.
6: The use of real-world cars makes a difference to me even though I'm not a car lover. I used to own a Toyota Prius, so I used the in-game credits to buy the same make and model of that car in order to see just how realistic it was. Seeing the dashboard display showing the same type of data was a great trip down memory lane and the car handled just like a real one until I added a few sports pack items to super it up a bit ready to compete better in the races. Now it's a real machine!
I just wish they had my current car the Mitsubishi Eclipse Cross, I guess they'll get me with download content if they add it later.
7: Gotta catch them all. This series is all about precision driving, we know that. But it's equally about collecting all the cars you can for your garage. With 400 or so cars to collect it becomes a car head version of pokemon as you strive to unlock achievements and earn the coin to buy and then evolve your vehicles. It's that gameplay mechanic that opens up a title like Gran Turismo 7 to more than "people who like car games" and while it gives them everything they want and more it also invites the rest of us in for a great time as well.
Article continues after this ad
Advertisement
Gran Turismo 7 is available now on PlayStation. These first impressions are from the PS5 version of the game.